September 2019
Keep your eye on this email each month for exciting opportunities to partner with CMEP through events, advocacy opportunities, and more.
Ask Your Representative to Support the Right to Boycott
Representatives Ilhan Omar, Rashida Tlaib, and John Lewis have introduced a resolution affirming that all Americans have the right to participate in boycotts in pursuit of civil and human rights at home and abroad. Let us encourage your representatives to join them in standing up for our civil liberties by cosponsoring H.Res 496!
Fall Pilgrimage to Peace (P2P) Tour
The Fall Pilgrimage to Peace (P2P) tour is September 18-25 in locations near Detroit, MI; Denver, CO; Charlotte, NC; and Winston-Salem, NC. Find more information about all of these events at our website.
Save the Date: 2020 Advocacy Summit
Our June 2020 advocacy summit will take place in Washington, D.C. from June 21-23. Registration will open soon!
J Street Conference 2019
Join us at the J Street National Conference in DC, October 26 - 29. CMEP will have an exhibitor table at the conference. We hope you will consider attending and visit our table! Together, we will be tackling the important questions facing foreign policy in the US today and what candidates and policymakers can do in the face of the challenges current American diplomacy presents.
Young Professional tickets start at just $150; use the code CMEP for 15% off! Email Brian from J-Street for more information.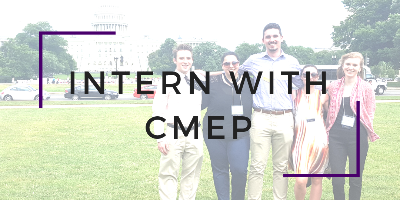 Churches for Middle East Peace (CMEP) seeks inquisitive, independent, and enthusiastic interns interested in working for peace regarding the Israeli-Palestinian conflict through supporting and equipping grassroots advocacy and education. Interns are essential to our work and receive mentoring and valuable experience through their internship. Now accepting applications for Fall 2019 and Spring 2020.
Women behind the Wall: Episode 2
Follow our Women behind the Wall series as we explore a podcast created by Palestinian women living behind the separation barrier in occupied Palestine. New posts every other week.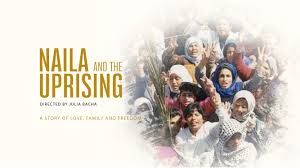 CMEP has partnered with Just Vision to create a special guide for their latest documentary, Naila and the Uprising. Set during the First Intifada, the documentary chronicles the life of Naila Ayesh, a leading advocate for her people. Naila uncovers the untold story of the powerful women who were the heartbeat of the nonviolent activism during the First Intifada. The CMEP guide is meant to encourage tangible next steps your community can take as we continue to work for a just and sustainable resolution to the conflict in Israel-Palestine. Depending on date and location, a staff person from Just Vision might be able to join your screening either via video or in person. The documentary is approximately 1 hr and 15 mins. Screening fees are waved for CMEP churches.