May 2019
Our June Advocacy Summit, Persistent Hope, is next month! We have been hard at work putting together an amazing program and speaking roster for you and can't wait to share this time with you. In the meantime, re-read our Lent Devotional series and see what we're saying about the latest news coming out of the region in our Public Statements and CMEP in the News sections.
Catch up on the latest news, events, and opportunities with CMEP now.
2019 Advocacy Summit: Persistent Hope: 35 Years of CMEP
In 2019, Churches for Middle East Peace (CMEP) celebrates our 35th anniversary of encouraging US policies that actively promote a comprehensive resolution to conflicts in the Middle East. Join us June 23-25, 2019 in Washington, D.C., as we honor the occasion and look to the future.
Interfaith Ramadan Iftar | Northern Virginia
We invite all of our greater Washington D.C. subscribers to attend an Interfaith Ramadan Iftar hosted by the American-Palestinian Women's Association on Saturday, May 11, from 6:30-9:30 PM. The Iftar meal is joyous community event bringing together family and friends held everyday at sunset during the month of Ramadan to mark the breaking of the fast. Proceeds from the event will benefit the Museum of the Palestinian People.
Israeli-Palestinian Memorial Day Ceremony | Washington D.C.
We invite you to attend a special service on Tuesday, May 7, from 7-8:30 PM remembering the lives of Palestinians and Israelis lost in the conflict. This service will feature bereaved Israeli and Palestinian families from the local community as they share their message of hope, empathy, and nonviolence

Re-read our entire Lent Devotional series now on the Prayers for Peace (P4P) blog.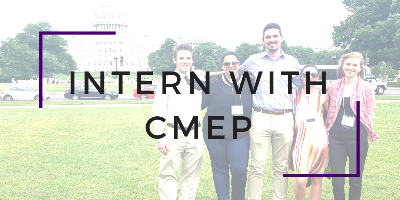 Churches for Middle East Peace (CMEP) seeks inquisitive, independent, and enthusiastic interns interested in working for peace regarding the Israeli-Palestinian conflict through supporting and equipping grassroots advocacy and education. Interns are essential to our work and receive mentoring and valuable experience through their internship.
Sami Awad & Jessica Montell on Peace in the Holy Land, The Luxcast, Apple Podcasts, April 22, 2019
Notre Dame Cathedral in Paris Ravaged by Fire, Yonat Shimron and Tom Heneghan, Religion News Service, April 15, 2019
Global Fragility – Faith in the Public Square, Water Ayres, Timesunion, April 12, 2019
Israelis Have Some Serious Decisions to Make, Rev. Dr. Mae Elise Cannon, Middle East Monitor, April 3, 2019
Video: Celebrating, and Demanding, the Freedom of Movement at the 2019 Palestine Marathon, Ahmad Al-Bazz and Nourhan Masri, Mondoweiss, April 3, 2019
Church Group Comes to Wausau to Promote Peace in the Middle East, Brennen Scarborough, WSAW-TV, April 1, 2019