March 2020
Keep your eye on this email each month for exciting opportunities to partner with CMEP through events, advocacy opportunities, and more.
Thank You to Our Member Communions and Organizations!
We are blessed with an incredible and active group of supporters that represent our nearly 30 board members. Their support helps us reach Christians and individuals passionate about peace in the Middle East all over the world and we could not do our work without their support.
Register for our Peace Plan Webinar, Tuesday, March 10
Nearly one month has passed since President Trump, alongside Israeli Prime Minister Benjamin Netanyahu, unveiled the "Peace to Prosperity" proposal. The proposal was met with both praise and significant opposition. One month later, where do things stand? Did the proposal from the Trump Administration shift U.S. policy toward Israel/Palestine? Have we seen changes on the ground in Israel/Palestine?
Travel to the Holy Land with CMEP
We partner with MEJDI tours to offer custom group travel to Israel, Palestine, and other destinations in the Middle East. This is an ideal next step for church engagement regarding conflict, reconciliation, and service within the context of the Holy Land. If you are interested in creating a trip for your church or a regional-wide church trip, please contact Heather.
Begin a Small Group Today
CMEP's small group curriculum, The Search for Peace and Justice in the Holy Land, explores Israeli and Palestinian claims to historic ties to the Land, why these claims are in conflict, when that conflict began, and why these different perspectives on history make achieving peace difficult. You do not need any prior knowledge of the conflict to lead this study.
Webinar: The New Middle East Peace Deal: 3 Perspectives
Use password: peacemaking
The Trump Administration recently released their version of a peace deal for Israel & Palestine called "Peace to Prosperity". The plan, developed without collaboration with Palestinians and laden with co-opted Christian language, has set off celebrations among some and protests among others. If enacted, this plan has serious and detrimental implications for all Israelis, all Palestinians, and all US Americans. Rather than a blueprint for peace, this plane is a roadmap for injustice.
Featuring Rev. Dr. Mae Elise Cannon, CMEP's executive director, Shadia Qubti, reconciliation teacher, and Liel Maghen, co-director of IPCRI.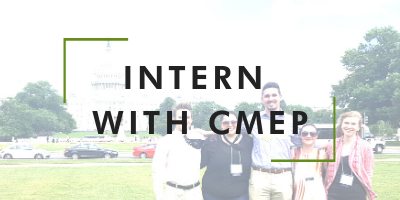 Churches for Middle East Peace (CMEP) seeks inquisitive, independent, and enthusiastic interns interested in working for peace regarding the Israeli-Palestinian conflict through supporting and equipping grassroots advocacy and education. Interns are essential to our work and receive mentoring and valuable experience through their internship. Now accepting applications for Summer 2020.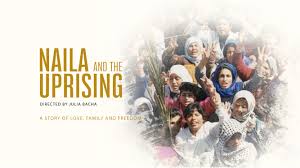 CMEP has partnered with Just Vision to create a special guide for their latest documentary, Naila and the Uprising. Set during the First Intifada, the documentary chronicles the life of Naila Ayesh, a leading advocate for her people. Naila uncovers the untold story of the powerful women who were the heartbeat of the nonviolent activism during the First Intifada. The CMEP guide is meant to encourage tangible next steps your community can take as we continue to work for a just and sustainable resolution to the conflict in Israel-Palestine. Depending on date and location, a staff person from Just Vision might be able to join your screening either via video or in person. The documentary is approximately 1 hr and 15 mins. Screening fees are waved for CMEP churches.
CMEP Welcomes New Outreach Manager!
We are thrilled to welcome Heather Parker to the CMEP team. Heather will be managing our church relationships along with CMEP trips.