July 2019
We concluded June with our annual advocacy summit,
Persistent Hope: 35 Years of CMEP
, in Washington, D.C. where we heard from inspiring speakers, attendees had an opportunity to advocate with their Members of Congress, and we launched the long-form of our organizational profile
video
! We'd also like to thank everyone who donated to our
35 for 35 giving campaign
. Every dollar given was matched, meaning we raised $70,000 for our 35th anniversary. We could not have done this without you! Thank you!
2019 Advocacy Summit: Persistent Hope: 35 Years of CMEP
We ended June with over 100 people joining us in D.C. for our annual advocacy summit. This year we celebrated 35 years of CMEP. The event included honoring CMEP's first Executive Director: Corinne Whitlatch and the work of the CMEP's second Executive Director: the late Ambassador Warren Clark. We introduced our current Ambassador Warren Clark Fellows (support this work by making a directed donation here); and we established an annual James Maxstadt Distinguished Volunteer Award in honor of James and all the volunteers that work for peace with CMEP. Our current executive director, Rev. Dr. Mae Elise Cannon, shared the many ways that CMEP is engaging with the work for peace in D.C., the Middle East, and many other locations throughout the United States.
Save the Date: 2020 Advocacy Summit
Our June 2020 advocacy summit will take place in Washington, D.C. from June 21-23. Registration will open soon!
US & Middle Eastern Church Leaders Consultation
CMEP co-hosted a US and Middle Eastern Church Leaders Consultation on June 26-27 in Washington, D.C. As the U.S. Government prepares to host the economic workshop in Bahrain, the timing of this consultation could not be more critical. The consultation spent time discerning how we can use our collective voice as church leaders to encourage policies and actions that will help lead toward human rights and justice for all in Israel-Palestine. Read our Press Release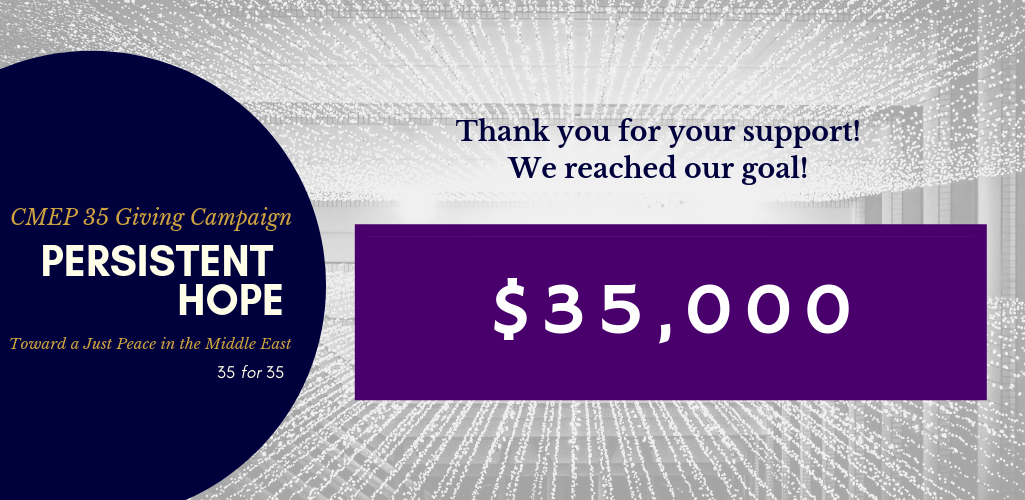 In celebration of our 35th anniversary, CMEP set a goal of raising $35,000 in six weeks which several generous donors offered to match, dollar for dollar, by the end of our advocacy summit on June 25th. We are thrilled to announce that we surpassed our fundraising goal and did so a day early! Thanks to all of our fantastic supporters who helped us meet this important milestone.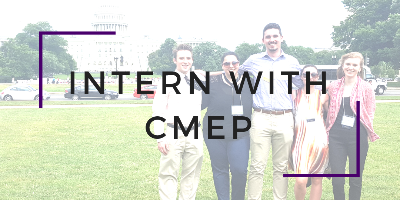 Churches for Middle East Peace (CMEP) seeks inquisitive, independent, and enthusiastic interns interested in working for peace regarding the Israeli-Palestinian conflict through supporting and equipping grassroots advocacy and education. Interns are essential to our work and receive mentoring and valuable experience through their internship. Now accepting applications for Fall 2019 and Spring 2020.
Join the CMEP Team!
CMEP is hiring a part-time bookkeeper. D.C. preferred, but open to remote workers. Find more information about this job and application instructions.