December 2019
Thank you to those of you who supported our work on #GivingTuesday! Your donations are critical to our work and we are so grateful. Keep your eye on this email each month for exciting opportunities to partner with CMEP through events, advocacy opportunities, and more.
Advent Devotions from CMEP
Our Advent devotion series, Elevating Voices from the Holy Land, began on December 1st with a reflection on hope. In the series of five devotions, our writers explore the Advent themes of hope, peace, joy, love, and of course, the gift of Jesus Christ. Check out the blog and then sign up for our Prayers for Peace (P4P) blog notifications today!
Public Statement
November 20, 2019: CMEP Applauds the E.U.'s Labeling of Settlement Products and Strongly Opposes the U.S.' Subsequent Recognition of Settlements
CMEP Trip to northern Iraq/Kurdistan
CMEP had exposure to many of the core issues affecting the Christian community in northern Iraq/Kurdistan – from the aftermaths of the U.S. invasion, to ISIS displacement and fear, current political realities between Kurdistan and the Iraqi government, economic hardships, conflict between communions and denominations, and the ever-present fear that Christianity here may soon disappear if Christians continue to emigrate at such alarming rates – particularly because they don't feel safe to return to their villages because of pressure and discrimination from militant groups like Shabak and others.
Travel to the Holy Land with CMEP
We partner with MEJDI tours to offer custom group travel to Israel, Palestine, and other destinations in the Middle East. This is an ideal next step for church engagement regarding conflict, reconciliation, and service within the context of the Holy Land. If you are interested in creating a trip for your church or a regional-wide church trip, please contact Heather.
CMEP Co-sponsors Congressional Briefing with Rep. McCollum
On Wednesday, November 20, CMEP, along with the Faith Forum on Middle East Policy, and the American Friends Service Committee, sponsored a Congressional Briefing, in partnership with Rep. Betty McCollum's office, on HR 2407. The briefing coincided with the UN International Day of the Child, and featured the release of a letter from 26 Faith Leaders, including CMEP's executive director, Rev. Dr. Mae Elise Cannon, in support of the legislation. Speakers included: Rep. Betty McCollum, Joyce Ajlouny (AFSC), Rev. Aundreia Alexander (NCC), Bishop Thomas Aitken (Northeastern Minnesota Synod, ELCA), Susan Gunn (Maryknoll Office for Global Concerns) and was moderated by Rev. Michael Neuroth (UCC). Over 70 people attended including 30 congressional staff.
You can now endorse the letter too. Click here to add your name. Please share this with others in your network.

Photo credit: AFSC
CMEP in the Holy Land
On November 12, 2019, Rev. Dr. Mae Elise Cannon joined Rev. Dr. Munther Isaac, the pastor of Evangelical Lutheran Christmas Church in Bethlehem, academic dean of Bethlehem Bible College, and the director of the Christ at the Checkpoint conferences, for the Tuesdays at Tantur lecture series. Their talk was entitled, "Evangelical Theologies of Liberation: Why? Whence? Whither?". CMEP is honored to join educational efforts with our Palestinian Partners. Also pictured is Dr. Hannah Hemphill, Academic Director of the Jerusalem Global Gateway for Notre Dame at Tantur Ecumenical Institute in Jerusalem.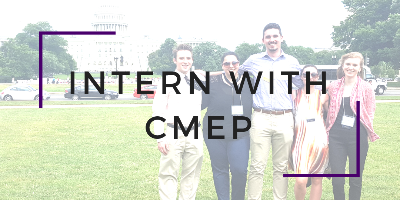 Churches for Middle East Peace (CMEP) seeks inquisitive, independent, and enthusiastic interns interested in working for peace regarding the Israeli-Palestinian conflict through supporting and equipping grassroots advocacy and education. Interns are essential to our work and receive mentoring and valuable experience through their internship. Now accepting applications for Fall 2019 and Spring 2020.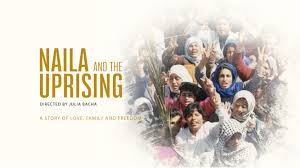 CMEP has partnered with Just Vision to create a special guide for their latest documentary, Naila and the Uprising. Set during the First Intifada, the documentary chronicles the life of Naila Ayesh, a leading advocate for her people. Naila uncovers the untold story of the powerful women who were the heartbeat of the nonviolent activism during the First Intifada. The CMEP guide is meant to encourage tangible next steps your community can take as we continue to work for a just and sustainable resolution to the conflict in Israel-Palestine. Depending on date and location, a staff person from Just Vision might be able to join your screening either via video or in person. The documentary is approximately 1 hr and 15 mins. Screening fees are waved for CMEP churches.