August 2019
This summer at CMEP we are taking time to look ahead at all the plans we have for the rest of 2019, into 2020, and beyond. Keep your eye on this email each month for exciting opportunities to partner with CMEP through events, advocacy opportunities, and more.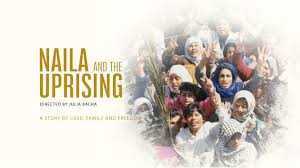 CMEP has partnered with Just Vision to create a special guide for their latest documentary, Naila and the Uprising. Set during the First Intifada, the documentary chronicles the life of Naila Ayesh, a leading advocate for her people. Naila uncovers the untold story of the powerful women who were the heartbeat of the nonviolent activism during the First Intifada. The CMEP guide is meant to encourage tangible next steps your community can take as we continue to work for a just and sustainable resolution to the conflict in Israel-Palestine. Depending on date and location, a staff person from Just Vision might be able to join your screening either via video or in person. The documentary is approximately 1 hr and 15 mins. Screening fees are waved for CMEP churches.
2019 Advocacy Summit: CMEP Honors Rep. Ro Khanna
During CMEP's 35th Anniversary Summit "Persistent Hope" we honored Representative Ro Khanna for his historic work advocating for an end to U.S. support of the Saudi Coalition and its engagement in the Yemeni civil war. CMEP's Director of Advocacy and Government Relations, Kyle Cristofalo and our executive director, Rev. Dr. Mae Elise Cannon met with Ro Khanna to show our appreciation.
Save the Date: 2020 Advocacy Summit
Our June 2020 advocacy summit will take place in Washington, D.C. from June 21-23. Registration will open soon!
International Religious Freedom Ministerial
In July, CMEP's executive director Rev. Dr. Mae Elise Cannon had the privilege of leading the Lord's Prayer at the opening prayer gathering at the U.S. Capitol hosted by In Defense of Christians (IDC) prior to the start of the IRF Ministerial. Attendees included His Eminence Archbishop Elpidophoros of America, Most Honorable Exarch of the Atlantic and Pacific Oceans and Archbishop of the Greek Orthodox Archdiocese of America, Archbishop Angaelos, General Bishop in the United Kingdom of the Coptic Orthodox Church, members of Congress, including Speaker of the House Nancy Pelosi (D-CA), Rep. Ami Bera (D-CA), Rep. Gus Bilirakis (R-FL), Rep. David Cicilline (D-RI), Rep. Anna Eshoo (D-CA), and others.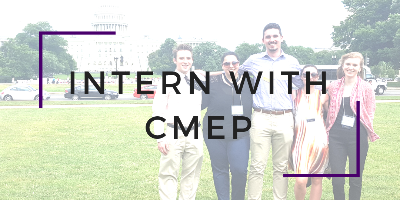 Churches for Middle East Peace (CMEP) seeks inquisitive, independent, and enthusiastic interns interested in working for peace regarding the Israeli-Palestinian conflict through supporting and equipping grassroots advocacy and education. Interns are essential to our work and receive mentoring and valuable experience through their internship. Now accepting applications for Fall 2019 and Spring 2020.