April 2019
CMEP has been busy traveling the last few months with multiple trips to Israel and Palestine and our Spring Pilgrimage to Peace tour that took us all over the U.S. As we gear up for our June Advocacy Summit, Persistent Hope, get inspired by our ongoing Lenten devotional series focused on the same theme and then take the time to register today!
Catch up on the latest news, events, and opportunities with CMEP now.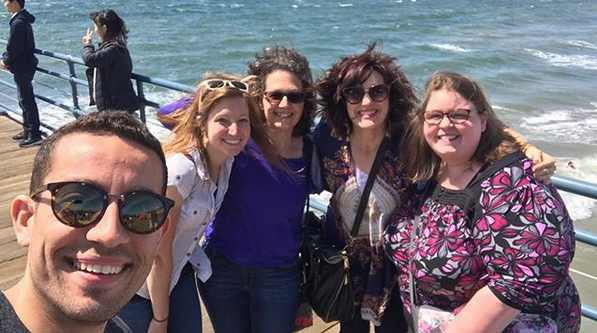 CMEP's Pilgrimage to Peace (P2P) tour took the U.S. by storm these past two weeks with Obada Shtaya of One Voice Movement and Suzann Mollner of Beirut and Beyond! We were honored to travel with them on this P2P tour as they shared their stories of nonviolent grassroots activism and humanitarian assistance on behalf of Palestinian refugees in Lebanon and Jordan. If you or your church community is interested in hosting a P2P tour in the future, please contact us.
2019 Advocacy Summit: Persistent Hope: 35 Years of CMEP
In 2019, Churches for Middle East Peace (CMEP) celebrates our 35th anniversary of encouraging US policies that actively promote a comprehensive resolution to conflicts in the Middle East. Join us June 23-25, 2019 in Washington, D.C., as we honor the occasion and look to the future.
Watch: What's Happening in Yemen
Watch CMEP's webinar from March 5th on Yemen featuring experts from CMEP and Oxfam America. The war in Yemen is responsible for the largest humanitarian crisis in the world today with the UN estimating nearly 12 million people--half the population-- are at risk for famine. The impact on children is especially daunting, with nearly 2 million children suffering from malnutrition.
CMEP1835 Advocacy Summit: Reclaiming Our Voices
On March 9-11, CMEP1835 held its annual advocacy summit. Utilizing the power of effective storytelling as a theme, participants engaged with speakers to learn how to enhance their voices in effective advocacy work. The summit culminated in participants developing the following mission statement:
"With resolve and urgency, we as millennial Americans commit to creatively pursuing a just peace within Israel, Palestine, and our home communities. We will honor our narratives and the stories of others to break down barriers and plant the seeds of change."
Spring 2019 Pilgrimage to Peace (P2P) Tour
CMEP's Spring 2019 Pilgrimage to Peace tour began March 28th in California and has taken our team across the country over the last two weeks. Speakers Obada Shtaya of One Voice Movement, Suzann Mollner of Beirut and Beyond, and CMEP's Alison Glick each shared their work and personal stories that have led them to their passion for human rights within Israel and Palestine.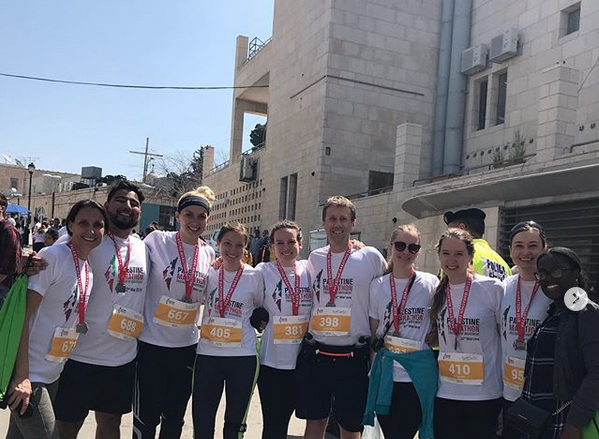 In March, CMEP's Director of Outreach, Sara Burback, led a team of ten members to engage in dialogue with individuals and organizations within Israel and Palestine committed to reconciliation and creative peacemaking. Facilitated by CMEP and Mejdi Tours, the team had an Israeli and Palestinian tour guide to honor the multi-narratives of the land and offer their varying perspectives. The trip culminated with nine of the team members participating the the 7th annual Palestine Marathon in Bethlehem to run in solidarity with the local community and demonstrate the need for the basic human right to movement.
In February 2019, CMEP led and facilitated a trip of African American and South African leaders from the National Council of Churches (NCC) and the South African Council of Churches (SACC). This statement was published as a result of their travels to Israel and the occupied Palestinian territories."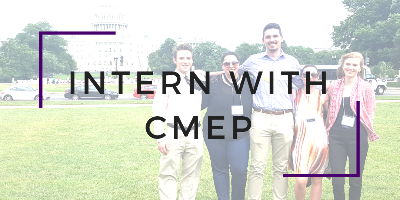 Churches for Middle East Peace (CMEP) seeks inquisitive, independent, and enthusiastic interns interested in working for peace regarding the Israeli-Palestinian conflict through supporting and equipping grassroots advocacy and education. Interns are essential to our work and receive mentoring and valuable experience through their internship.