April 2020
We are excited to offer a variety of digital experiences to engage with us and allow you the opportunity to advocate for peace and justice during this time of shelter in place. Although COVID-19 has changed the world in the past months, the core issues we at CMEP work on have not changed and are more important than ever.

Read on to see how you can engage with us during this time.

We have restructured our June summit into a digital conference. You can safely make plans to join us from the comfort of your own home. We look forward to advocating with you for peace and justice!
CMEP & COVID-19
Read our Executive Director's message to the CMEP community regarding COVID-19 and what that means for CMEP's work. "Our advocacy focus on humanitarian and economic assistance is all the more critical when parts of the Middle East will be ravaged by COVID-19. We will continue to raise our voice and mobilize U.S. Christians in working toward human rights, justice, and peace for all people in the Middle East."
Faith and Activism. Freedom or Oppression. A Digital Pilgrimage to Peace (P2P) Event.
April 7, 2020 | 1:30 PM EST (US and Canada) |
Register
Join Rev. Dr. Mae Elise Cannon, executive director of Churches for Middle East Peace (CMEP) and speakers from Combatants for Peace as they host a dialogue about constructive conflict, peace, advocacy, and the reality of life in Israel and Palestine.

This conversation will take place during Holy Week and the night before Passover. We will include a discussion of how our religious contexts play a role in this work. We are also gathering during the continued uncertainties regarding COVID-19. The conversation will include ways in which this global pandemic is disproportionately impacting Palestinians already living under occupation. Your donations to support this digital communication platform are appreciated.
Donate
In this critical time, we are elevating the work of our partner Rebuilding Alliance, which is coordinating a Palestine Coronavirus relief fund. Please give. All donations made to CMEP by April 15 here will be sent to our trusted partner Rebuilding Alliance, which is coordinating a Palestine Coronavirus relief fund to provide much needed medical supplies to the West Bank & Gaza. Please give.
Listen Now: Women Behind the Wall: The Intersection of COVID-19 and the Occupation
CMEP co-sponsored the latest episode of the Women Behind the Wall podcast titled: A Special Episode: The Intersection of COVID-19 and the Occupation.The producers share that the episode highlights, "the impact of the novel coronavirus in our context, and more specifically, on Palestinian women and men living under occupation." Take a listen to hear from everyday people affected by the virus.

You won't hear these stories anywhere else. Please listen at the podcast website or on iTunes, and share with your friends! #WomenBehindTheWall #coronavirus #COVID19

*CMEP does not necessarily agree with all the views expressed here, and those interviewed do not speak on CMEP's behalf.
Webinar: The New Middle East Peace Deal: 3 Perspectives
Use password: peacemaking
The Trump Administration recently released their version of a peace deal for Israel & Palestine called "Peace to Prosperity". The plan, developed without collaboration with Palestinians and laden with co-opted Christian language, has set off celebrations among some and protests among others. If enacted, this plan has serious and detrimental implications for all Israelis, all Palestinians, and all US Americans. Rather than a blueprint for peace, this plane is a roadmap for injustice.
Featuring Rev. Dr. Mae Elise Cannon, CMEP's executive director, Shadia Qubti, reconciliation teacher, and Liel Maghen, co-director of IPCRI.
US Congress call for stopping support for Israel demolitions of Palestinian homes, Miriam Jackson, The Union Journal, March 19, 2020
RELEASE: Khanna, Cohen, Eshoo Lead Letter Urging Administration to Oppose the Displacement of Palestinian Families and Ensure U.S. Equipment is Not Used in West Bank Home Demolitions, MarketScreener, March 16, 2020
Statement on Israel-Palestine Peace Plan, Newsnotes, March-April 2020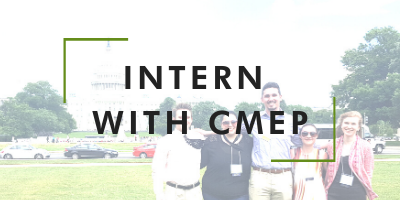 Churches for Middle East Peace (CMEP) seeks inquisitive, independent, and enthusiastic interns interested in working for peace regarding the Israeli-Palestinian conflict through supporting and equipping grassroots advocacy and education. Interns are essential to our work and receive mentoring and valuable experience through their internship. Now accepting applications for Summer 2020.