Keep your eye on this email each month for exciting opportunities to partner with CMEP through events, advocacy opportunities, and more.

On Thursday, May 13 CMEP launched our Churches Against Annexation Campaign. Over the past weeks we have witnessed, from Washington to Jerusalem, signs laying the groundwork for formal annexation of parts—or all—of Area C in the occupied West Bank by the Israeli government. Given the Trump Administration's support, Congress must step up to ensure no U.S. funds are used in the recognition or facilitation of annexation—and for there to be any chance they will, elected officials must hear loudly and clearly from their constituents.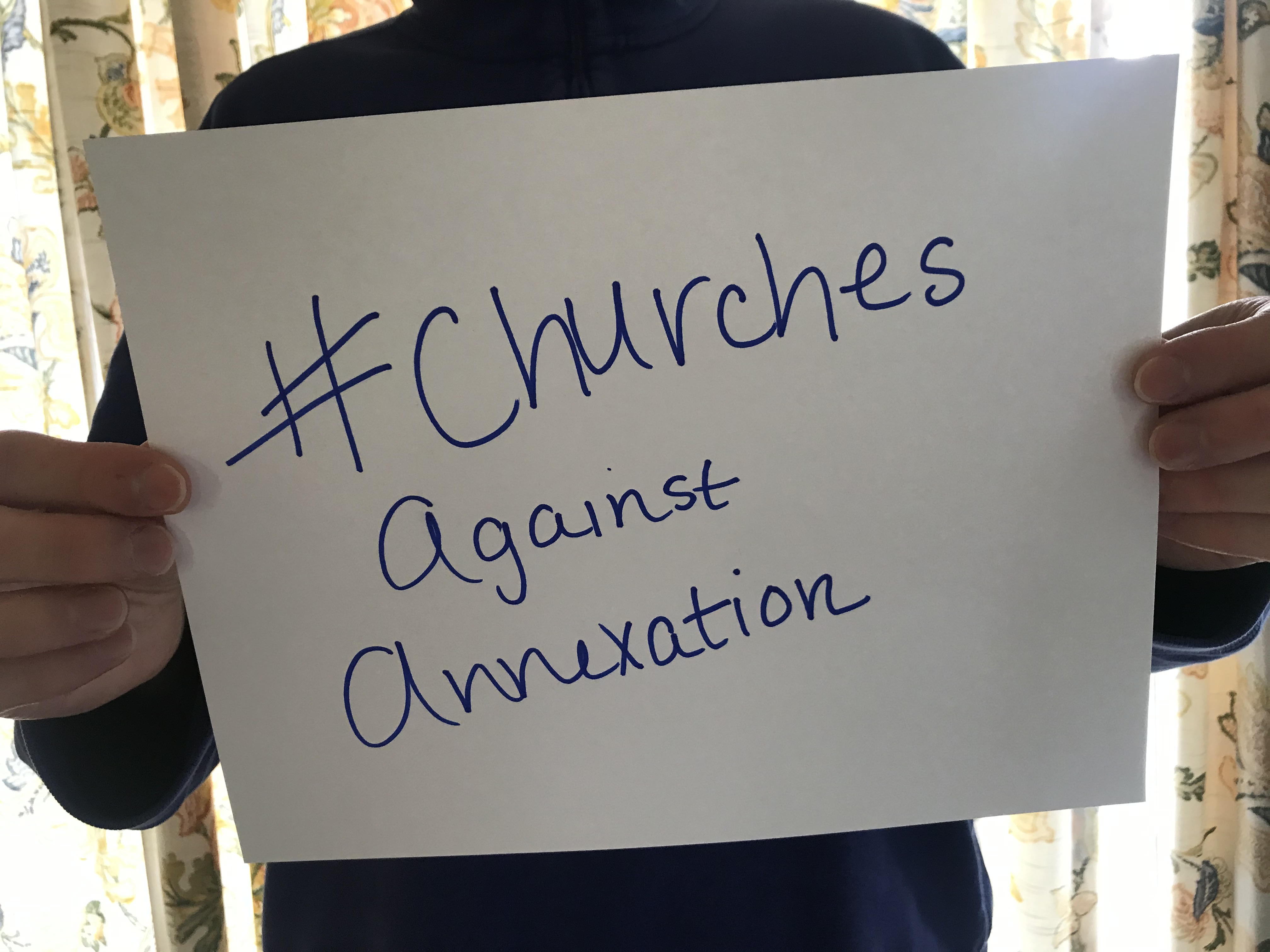 Join us in posting #ChurchesAgainstAnnexation on your social media. Tag @ChurchesforMEP on Facebook, Instagram, and Twitter, and post your pictures with the campaign hashtag. Be sure to tag your members of Congress!
#ChurchesAgainstAnnexation Webinars
Watch the two webinars in our series: "Palestinian Voices: Annexation and its impact on the Christian Community in Israel/Palestine" and "Why Should Christians in the Pews Care about Annexation and Palestinian Human Rights?"
Learn more about how Christian leaders in Palestine are responding to the possibility of annexation and why it is critical for Christians to care about the situation in Israel-Palestine, especially now with annexation looming.
Thank You for Making Equal in God's Eyes a Success!
We held our June summit on Monday, June 22, on Zoom and we are so grateful to all of you who registered and attended! Our advocacy summits are a great opportunity to be inspired and learn how to advocate with your congresspersons...even from home! We look forward to sharing more from the summit with you in the coming weeks. Be sure to follow us on social media!
#Activism Podcast & CMEP's Response to Black Lives Matter
CMEP executive director interviewed Presiding Bishop Michael Curry of The Episcopal Church for the #Activism podcast about how Christians should be thinking and responding to the current protests against police violence and racism in response to the death of George Floyd.
And in a letter sent to the CMEP community, Rev. Dr. Cannon wrote about racial injustice and police brutality and their disproportionate effect on the African American community. Although CMEP's primary work is focused on the Middle East, as Christians we aim to live out and elevate Christ's message of hope for the poor, freedom for the captives, and a call for biblical justice that allows for all of humanity to have access to resources and hope for equality and a prosperous future, and this message knows no bounds. Read More
Eastertide Meditations: Calls to Spiritual Activism from the Middle East
Rev. Dr. Mae Elise Cannon, executive director of Churches for Middle East Peace (CMEP), gathered with Christian leaders from across the Middle East weekly during Eastertide 2020 for Eastertide Meditations. Rev. Dr. Cannon and her guests discussed how Christians in the Middle East are doing during this challenging time and answered the question: What is the need that American Christians can help with in your work?
Watch the full series now.
Thank You for Generously Donating!
Thanks to a group of generous donors, we were able to match all donations up to $20,000 for our June 2020 donation drive. This means that we exceeded our initial goal of $40,000 and raised a total of $44,027.65 towards supporting our work for equality and justice! Because of you we are able to elevate Christian voices speaking truth to power. Thank you.
Contact Us
Churches for Middle East Peace (CMEP)
110 Maryland Ave NE, Suite 311
Washington, District of Columbia 20002
(202) 543-1222 info@cmep.org