U.S. Congress Debates What Constitutes Anti-Semitism
A look at the split of an Arab coalition leading up to Israeli elections, the anti-Semitism conversation that has consumed the U.S. government, and more news in this week's bulletin.
Image: Capitol Hill (via Pixabay).
Anti-Semitism versus Legitimate Criticism of the State of Israel
Religious News Service

Read this piece written by CMEP's executive director, Rev. Dr. Mae Elise Cannon, she discusses the current conversation around anti-Semitism. "In light of debates on Capitol Hill about what defines anti-Semitism and recent increased incidents of hatred toward Jews, it is particularly paramount to weed out and eradicate anti-Semitism, while also distinguishing it from legitimate criticism of Israel.
How does one criticize Israel's policies without being anti-Semitic?"
Image: Rep. Ilhan Omar, D-Minn., left, joined at right by Rep. Rashida Tlaib, D-Mich., listens to President Trump's State of the Union speech at the Capitol in Washington (AP Photo/J. Scott Applewhite).
House Votes to Condemn All Hate as Anti-Semitism Debate Overshadows Congress
The New York Times
"The resolution condemning "hateful expressions of intolerance," which passed the House by an overwhelming 407-to-23 vote Thursday afternoon, was as much a statement of Democrats' values as their factionalism."
Representative Ilhan Omar (Erin Schaff/The New York Times).
Don't Blame the Orthodox Church for Nasty Political Games in the Holy Land
Foreign Policy
Check out the response by Patrick Theros, the former U.S. Ambassador to Qatar, to the article "Holy Land for Sale" published in Foreign Policy in January. Theros argues that the article "presented a picture of large-scale discontent within the Greek Orthodox Patriarchate of Jerusalem that exaggerates the numbers and importance of the dissidents within the church, misstates many facts, and distracts attention from an existential threat to all Christian churches in the Holy Land, not just the Greek Orthodox Church."
Image: Theophilos III in Bethlehem (Musa al-Shaer/AFP/Getty Images).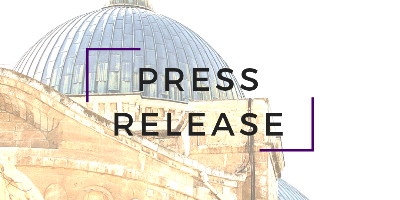 Public Statement: Against Weaponizing Anti Semitism:
As Congress considers a resolution condemning anti-Semitism, CMEP calls on leadership not only to repudiate all forms of bigotry, but to be clear in differentiating between actual hate speech and critiques of policy.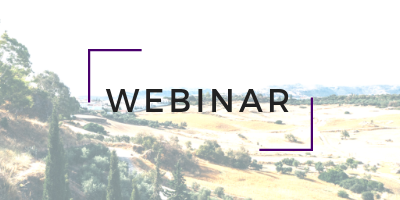 Webinar: What's Happening in Yemen:
Watch a replay of our March 5 webinar to learn more about the situation in Yemen and ways you can be involved in supporting an end to the war and humanitarian crisis.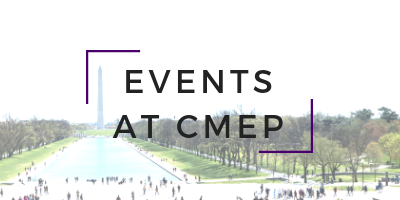 Reclaiming Our Voices Begins Tomorrow!
Don't miss out on our first CMEP1835 Advocacy Summit, this weekend from March 9th-11th! Recognize the power of your voice in pursuing justice and peace in the Middle East.
Donate
On this International Women's Day, we honor all women seeking peace and justice in the Holy Land and the broader Middle East. Please help us support them.
Debunking The Myth That Anti-Zionism Is Anti-Semitic
Forward
"Anti-Zionism is not inherently anti-Semitic — and claiming it is uses Jewish suffering to erase the Palestinian experience… Anti-Semitism isn't wrong because it's wrong to denigrate and dehumanize Jews. Anti-Semitism is wrong because it's wrong to denigrate and dehumanize anyone. Which means, ultimately, that any effort to fight anti-Semitism that contributes to the denigration and dehumanization of Palestinians is no fight against anti-Semitism at all."
Image: Rally against anti-semitism in Paris (Getty Images).
As Israel's Arab Political Coalition Splits, its Supporters have More Choices and Less Power
Jewish Telegraphic Agency
"The Arab parties in Israel have split into two competing groups. The rupture is raising worries that an already disenfranchised minority will lose what little clout it has in the nation's parliament."
Image: Head of the Joint List Party in the Knesset (Yonatan Sindel/Flash90).

NGO to Launch Campaign to Thwart Israeli West Bank Annexation
The Jerusalem Post
An NGO, "made up of some 300 retired IDF senior officers," is set to "launch a campaign to thwart Israeli plans to annex the West Bank that would be implemented by any new right-wing government elected on April 9. 'The extreme right,' the NGO Commanders for Israel's Security said, 'is preparing the ground for the annexation of millions of Palestinians. We are determined to lead a large-scale public campaign that will thwart this annexation plan.'"
Image: West Bank Village (Kobi Wolf for The Washington Post).
CMEP's Bulletin is a weekly round-up of news from the Middle East and represents an array of perspectives on the issues we cover. CMEP does not necessarily agree with all the views expressed in the articles, and they do not speak on CMEP's behalf.
Churches for Middle East Peace (CMEP)
110 Maryland Ave NE, Suite 311 | Washington, District of Columbia 20002
(202) 543-1222 | info@cmep.org