U.S. Recognizes Golan Heights as Israel
A look at a Hamas rocket striking a home in Israel, a crackdown on Gaza protests, and more news in this week's bulletin.

Image: Israeli soldier overlooks the Golan Heights (Uriel Sinai/The New York Times).

Trump Officially Recognized Israel's Annexation of the Occupied Golan Heights. Here's What It Means
CNBC

"The [recognition of Israel's annexation of the Golan Heights] is major in a few ways. It's yet another rejection by the Trump administration of decades of U.S. policy; it recognizes Israeli sovereignty over a territory internationally recognized as belonging to an Arab state; and it's seen as a boost to Israeli Prime Minister Benjamin Netanyahu ahead of Israel's elections."
Image: President Trump signing the declaration recognizing Israel's annexation of the Golan Heights (Carlos Barria/Reuters).

Live Updates: Despite Reports of Cease-fire, Israel and Gaza Continue to Exchange Limited Blows
Haaretz
"The Israeli military carried out a series of strikes on Hamas targets in the Gaza Strip on Tuesday night and early Wednesday morning after a rocket launched from the coastal enclave targeted southern Israel." These attacks came as a response to the striking of a house in Israel earlier this week, by a Hamas rocket.
Image: An Israeli soldier near the border of Gaza (Amir Cohen/Reuters).

'Tip of The Spear': The US Christian Movement Praying for Trump and Israel
The Middle East Eye
Check out the feature by CMEP's Executive Director, Rev. Dr. Mae Elise Cannon, in this article on the Christian response to Israel. She talks about the work that CMEP does, as well as other issues like how "some Christian fundamentalists are growing increasingly entrenched in their ideas because they feel "threatened."

A poster in Jerusalem (AFP).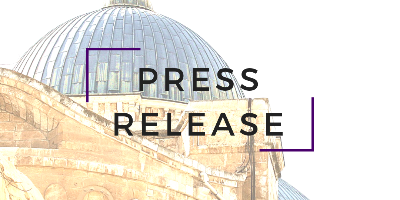 Public Statement:
Recognizing Israeli Annexation of Golan Heights is Another Dangerous Example of One-Sided U.S. Policy: CMEP comes out against the Trump administration's recognition of the annexation of the Golan Heights.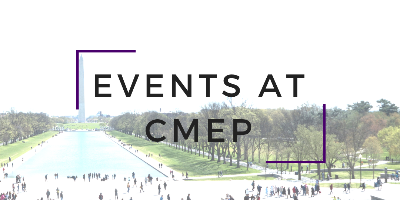 Be a Part of Hopeful Activism!
Register today for our annual advocacy summit in June. Our theme this year: Persistent Hope: 35 Years of CMEP.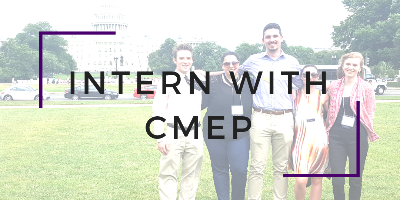 Intern with CMEP:
Applications are now open for CMEP's 2019 Summer internship! We invite college students of all ages to apply for the opportunity to gain exposure to working in a non-profit in Washington, D.C.
Donate
Your donation will help us advocate for an end to the war in Yemen - the cause of enormous suffering. Learn more during our Mar. 5 webinar, 1pm ET.
Editorial: Stop Israel's Coming Annexation
Haaretz
Check out this Haaretz opinion piece about how "Trump's recognition of Israeli sovereignty over the Golan Heights opens the door to further annexation [of] the other territories captured in 1967, mainly the West Bank."

Image: Netanyahu and Trump (Jacquelyn Martin/AP).

Hamas Crackdown on Gaza Protests Instills Fear
The New York Times
"Hamas security forces moved quickly to quell the protests that brought hundreds of people into the streets in at least four camps and towns across Gaza this month to demand better living conditions. The security forces beat demonstrators, raided homes and detained organizers, journalists and participants, about 1,000 people in all."
Image: Hamas security forces (Ibraheem Abu Mustafa/Reuters)
Did Eight Democratic Candidates 'Boycott' the AIPAC Conference?
The Washington Post
AIPAC, the powerful pro-Israel lobbying group, recently held their annual summit. While speaking, Vice President Pence claimed that eight democratic candidates for President had boycotted the event, presumably taking a stand against pro-Israel lobbying. Check out this fact check of that assumption.

Image: PM Netanyahu speaking at the AIPAC conference via video chat (Jose Luis Magana/AP Photo).

CMEP's Bulletin is a weekly round-up of news from the Middle East and represents an array of perspectives on the issues we cover. CMEP does not necessarily agree with all the views expressed in the articles, and they do not speak on CMEP's behalf.
Churches for Middle East Peace (CMEP)
110 Maryland Ave NE, Suite 311 | Washington, District of Columbia 20002
(202) 543-1222 | info@cmep.org