Pope Francis Visits the Arabian Peninsula
A look at the controversy embroiling Rep. Ilhan Omar, how a Palestinian robe is becoming a symbol of protest, and more news in this week's bulletin.
Image: Pope Francis and Egypt's Azhar Grand Imam (Vincenzo Pinto/AFP).
Why Pope Francis' Historic Visit to the Gulf Matters
The New York Times
"Pope Francis started a landmark, three-day visit to the United Arab Emirates on Sunday, becoming the first pontiff of the Roman Catholic Church to visit the Arabian Peninsula. The visit offers a rare note of hope for Christians in the Middle East, who in recent decades have come under intense pressure in the region where their faith has its roots. Many have been persecuted, killed or forced to flee."
Image: Pope Francis (Remo Casilli/Reuters).
Why We Invited the Pope to the Arabian Peninsula
Politico
Check out this article by Yousef Al Otaiba, the United Arab Emirates' ambassador to the United States, about why the Pope was invited to visit the Arabian Peninsula.
Image: Pope Francis (Andreas Solaro/AFP/Getty Images).
The Ilhan Omar Controversy Reveals a Larger Struggle Over Israel Among Democrats
Time
"The controversy that swirled around Congress this week after Rep. Ilhan Omar insinuated that politicians only support Israel because of donations from wealthy Jews died down as quickly as it began. Publicly rebuked by leaders of her own party for using "anti-Semitic tropes," the freshman Democrat issued an apology. But while this episode was short, the already tricky politics of Israel are likely to keep coming up — and keep getting trickier for Democrats."
Image: Rep. Ilhan Omar (Reuters).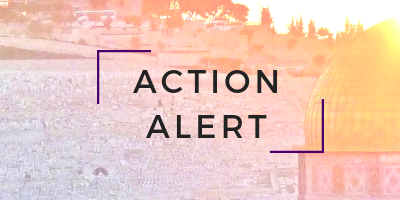 Tell Congress: Amend the Anti-Terrorism Clarification Act:
The Anti-Terrorism Clarification Act (ATCA) signed into law in October 2018 effectively stops US humanitarian assistance to Palestinians.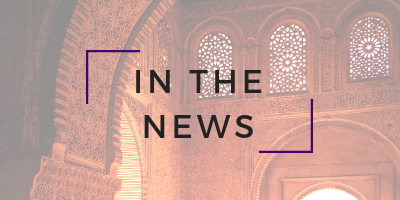 CMEP in the News
WRMEA offers an interesting look at the shifting perspectives of US church denominations towards Palestinian rights.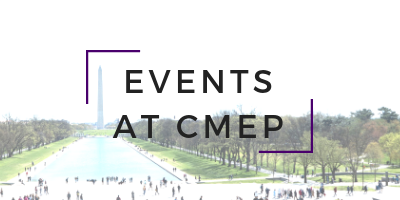 One Month Until Reclaiming Our Voices!
Are you between the ages of 18-35 or know someone who is? "Reclaiming Our Voices" invites young people to join CMEP staff in D.C. to recognize the power of their voices in pursuing justice and peace in the Middle East.
Donate
Consider creating a Facebook fundraiser to benefit CMEP to celebrate your birthday, holidays, or just because. It's easy! Go to our FB page and click the "+create fundraiser" button.
Dems Gunning for Trump Fear 2020 Split over Israel
Politico
In preparations for 2020, democratic contenders for the presidency have to decide which side of their party to appeal to on issues of Israel and Palestine: the base with a growing support for the Palestinian cause or their traditional base of support in the American Jewish community.
Image: Sen. Klobuchar, who just declared her candidacy for President (Stephen Maturen/Getty Images).
Meeting Abbas, MBS backs Palestinian State with East Jerusalem as its Capital
The Times of Israel
"Saudi Crown Prince Mohammed bin Salman gave Saudi Arabia's support for the establishment of an independent Palestinian state with East Jerusalem as its capital on Tuesday." This news "comes amid persistent reports of efforts to improve ties between Israel and Saudi Arabia and speculation that Saudi Arabia could pressure the Palestinians into accepting the peace plan being drafted by the Trump administration."
Image: President Trump and Saudi Crown Prince MBS (Evan Vucci/AP Photo).
Iconic Palestinian Robe Fashions a New Political Symbol
AP News
"The traditional brightly embroidered dress of Palestinian women known as the "thobe" is now " gaining prominence as a softer expression of Palestinian nationalism, competing even with the classic keffiyeh — the headscarf donned by young stone-throwing Palestinian men protesting Israel's occupation."
Image: Palestinian robe (Nasser Nasser/AP Photo).
CMEP's Bulletin is a weekly round-up of news from the Middle East and represents an array of perspectives on the issues we cover. CMEP does not necessarily agree with all the views expressed in the articles, and they do not speak on CMEP's behalf.
Churches for Middle East Peace (CMEP)
110 Maryland Ave NE, Suite 311 | Washington, District of Columbia 20002
(202) 543-1222 | info@cmep.org