The EU Criticizes Palestinians at the United Nations
A look at Israel's anti-tunneling effort against Hezbollah, the firing of a CNN correspondent who called for a free Palestine, and more news in this week's bulletin.
(Image: The Israeli Delegation at the UN, Don Emmert/AFP)
EU, in Unusual Move, Warns Palestinians to Drop Muslim-Only Language for Temple Mount
Palestinians have been making a bid in the United Nations "to reference the Temple Mount solely by its Muslim name of al-Haram al-Sharif." The EU, however, released a statement against this action, "stress[ing] the need for language on the holy sites of Jerusalem to reflect the importance and historical significance of the holy sites for the three monotheistic religions, and to respect religious and cultural sensitivities." This move was unusual because the EU has historically leaned more supportive of the Palestinian cause.
(Image: Temple Mount, TNS)
To Counter Hezbollah, Israel Begins Anti-Tunnel Effort on Lebanon Border
The Israeli military accused Hezbollah of building tunnels into Israel, and announced that they would be taking action to preemptively stop this effort before it hurt Israeli citizens. "Israeli officials cast the operation as part of a broader strategy to curb Iranian influence in the region and, in particular, Tehran's efforts to upgrade the weaponry of Hezbollah, Israel's archenemy across the Lebanese frontier."
(Image: Israel's border wall with Lebanon, Sebastian Scheiner/Associated Press)

CNN Fires Marc Lamont Hill in Wake of Remarks Criticizing Israel and Calling for a 'Free Palestine'
Marc Lamont Hill is a media studies professor at Temple University, and a longtime contributor to CNN. He was fired, however, after remarks made in a speech to the United Nations where he called for a free Palestine, and endorsed the controversial boycott, divest, sanction (BDS) movement.
(Image: CNN Office, iStock)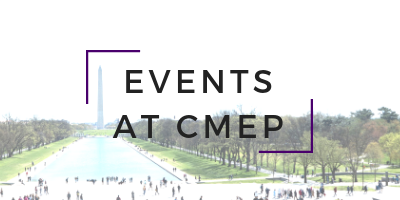 Virtual Worship Service
Join the Washington National Cathedral and the Evangelical Lutheran Christmas Church in Bethlehem, Palestine, for their annual live simulcast worship service (9:30 am in Washington, 4:30 pm in Bethlehem on Dec. 16th).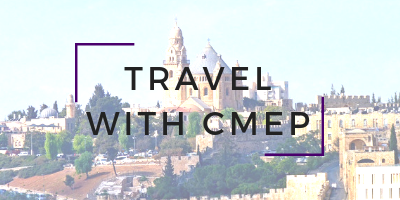 Travel Opportunities to the Holy Land
Haaretz recently featured MEDJI, a travel company providing trips to the Holy Land which provide multi-narrative perspectives through the use of two local guides, one Israeli and one Palestinian. You can now join or plan a CMEP tour through MEDJI!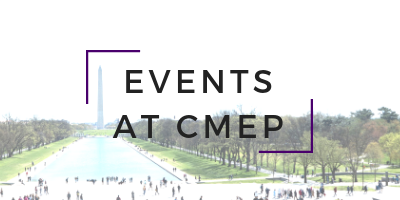 CMEP1835 Advocacy Summit
CMEP is hosting a summit in March for people ages 18-35, called "Reclaiming Our Voices: Reframing the Narrative for Shared Justice in Israel and Palestine." Young people are invited to join CMEP staff in D.C. to recognize the power of their voices in pursuing justice and peace in the Middle East.
Prince Charles Calls for Middle East Peace at Service for Persecuted Christians
"Prince Charles... delivered his own personal reflection on the crisis for Christians at a service in Westminster Abbey. The plight of persecuted Christians is a cause that has become dear to the prince over many years. He met refugees on several occasions… But this is the first time he has spoken from the pulpit on the subject during a church service."
(Image: Prince Charles arrives in Westminster Abbey, Matt Dunham/AP)
Press Release: Congress Takes Action to Support Minorities in Iraq and Syria and Hold ISIS Accountable
"Four years after ISIS laid siege to ethnic and religious minority communities in Iraq and Syria, the U.S. Congress voted unanimously... to fund humanitarian, stabilization, and recovery assistance." This legislation is bipartisan, and is expected to reach the president's desk by the end of the year for signing into law.
(Image: A Center for Internally Displaced Persons [the majority of whom are Christian] in Iraq, Elise Harris/CNA)
The Pope of Hope: Egypt's Tawadros II on Status of Copts, Regional Politics, and Saudi Reforms
Tawadros II, the 118th Pope of Alexandria and leader of the Coptic Orthodox Church of Alexandria, opens up about the situation of Christians in the Middle East. Tawadros II "leads nearly 15 million Copts in Egypt and a further 2 million abroad… [Copts] practice a form of Christianity established 2,000 years ago by St. Mark, and, like most Christians and minorities in the region, have endured persecution at various times in their history."
(Image: Pope Tawadros II, Ziyad Alarfaj)
Churches for Middle East Peace (CMEP)
110 Maryland Ave NE, Suite 311 | Washington, District of Columbia 20002
(202) 543-1222 | info@cmep.org