Palestine Leads Influential U.N. Group
A look at refugee camps in Jerusalem, Palestine's ascension as the leader of the Group of 77 in the U.N., and more news in this week's bulletin.
Image: Israeli Settlements in the West Bank (Baz Ratner/Reuters).
'Historic' Moment: Palestine Takes Reins of UN Coalition of Developing Countries
United Nations
The State of Palestine now chairs the "Group of 77" in the United Nations, which is a group of 134 developing nations. These nations work together for their common interests in order to make their voice heard in the general assembly.
Image: Official transfer of power ceremony between Egypt and Palestine (Manual Elias/UN photo).
The Power Struggle Between Israel and UNRWA in Jerusalem's Refugee Camp
The Jerusalem Post
"Shuafat, one of the 59 Palestinian refugee camps ran by UNRWA, is the only refugee camp in Jerusalem and the only one under Israeli control. More than 30,000 Palestinians live in the camp… Political instability is one among several issues afflicting the lives of Shuafat residents. The camp is also marked by violence, criminal activities, drug dealing and abuse and poor sanitation."
Image: A corridor in the Shuafat camps (Udi Shaham).
Americans Have a Right to Boycott, Even If It's Wrong
The American Conservative
Check out this article on the BDS movement by Rand Paul, the Republican junior Senator from Kentucky. Senator Paul argues that anti-BDS legislation passed by Congress violates the first amendment.
Image: Senator Rand Paul (Gage Skidmore/Flickr).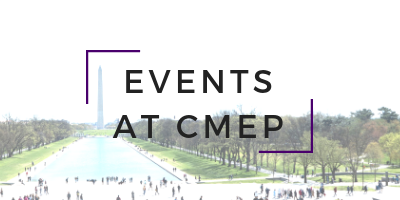 June 2019 Annual Advocacy Summit
Join us at Persistent Hope: 35 Years of CMEP as we celebrate our 35th birthday and strategize for how to best carry out the work for a just peace in the future! Early bird prices available now!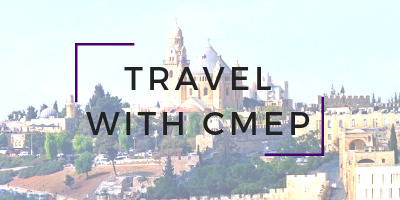 Travel with CMEP
If visiting the holy land is on your bucket list, CMEP can help! CMEP pairs with MEJDI to provide the chance to hear multi-narrative perspectives through the use of two local guides, one Israeli and one Palestinian.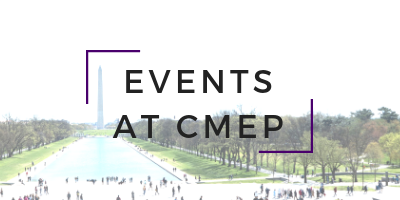 CMEP1835 Advocacy Summit
CMEP is hosting a summit in March for people ages 18-35, called "Reclaiming Our Voices: Reframing the Narrative for Shared Justice in Israel and Palestine." Young people are invited to join CMEP staff in D.C. to recognize the power of their voices in pursuing justice and peace in the Middle East.
Donate
As MLK reminds us, "Injustice anywhere is a threat to justice everywhere." Please donate to help CMEP fight for justice in Palestine, Israel, and the broader Middle East.
U.S. Must Erase Legal Opinion Condemning West Bank Settlements, ZOA Says
The Jerusalem Post
ZOA, the Zionist Organization of America, is arguing that the U.S. "must rescind its famous 41-year old legal opinion that West Bank settlements are 'inconsistent with international law.'" The organization is worried that this viewpoint has served to "fuel Israel bashing."
Image: ZOA president Morton A. Klein (Joseph Savetsky/courtesy of ZOA).
A Sculpture of Ronald McDonald on a Cross Ignites Violent Clashes in Israel
The Washington Post
"Artwork depicting a crucified Ronald McDonald remains on display in Israel despite protests and calls for its removal from the country's Arab Christian community." The artwork, displayed in the Haifa Art Museum, was "meant to be a critique of society's capitalistic culture."
Image: Ronald McDonald on a Cross (Oded Balilty/AP).
Arab League: Palestinian Issue Has 'Reduced' Importance
The Jerusalem Post
"Arab League Secretary-General Ahmed Abu al-Gheith caused a stir when he stated during a recent television interview that the priority of the Palestinian cause – resisting Israel and pushing for a Palestinian state – has been somewhat 'reduced,' before clarifying that 'it is still a pressing circumstance that we [Arab states] must strive to resist.'"
Image: A Palestinian woman during a protest (Ibraheem Abu Mustafa/Reuters).
CMEP's Bulletin is a weekly round-up of news from the Middle East and represents an array of perspectives on the issues we cover. CMEP does not necessarily agree with all the views expressed in the articles, and they do not speak on CMEP's behalf.
Churches for Middle East Peace (CMEP)
110 Maryland Ave NE, Suite 311 | Washington, District of Columbia 20002
(202) 543-1222 | info@cmep.org