Controversy Over the Selling of Holy Land
A look at the conviction of a former Israeli cabinet member, the arrest of Palestinian "collaborators" in the aftermath of a failed Israeli mission in Gaza, and more news in this week's bulletin.
Greek Orthodox Patriarch of Jerusalem, Theophilis III (Majdi Mohammed/AP Photo).
Holy Land for Sale
Foreign Policy
"The Greek Orthodox Patriarchate is selling church land that's ending up in the hands of Israeli settler groups. Its Palestinian Christian congregants are furious."
Image: Altar boy (Musa al-Shaer/AFP/Getty Images)
Hamas Arrests 45 'Collaborators' in Israeli Special Forces Op that Went Awry
Times of Israel
After the failed Israeli special forces operation that resulted in the "largest flare-up between sides since [the] 2014 war," Hamas has arrested dozens of Palestinians that they claimed were aiding Israel.
Image: Man behind bars in a Hamas run prison in Gaza (Mohammed Abed/AFP Photo).
Palestinian Court Jails U.S.-Palestinian for Life for Jerusalem Land Sale
Reuters
Issam Akel, a U.S.-Palestinian dual national, "was accused of attempting to sell a property in Israeli-occupied East Jerusalem without the permission of his business partners or Palestinian authorities." He was convicted of "attempting to sever parts of Palestinian land and annex it to a foreign state," and was given "a life sentence with hard labor."
Image: West Jerusalem (Ronen Zvulun/Reuters).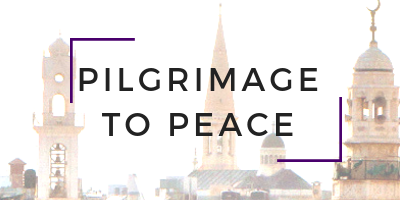 June 2019 Annual Advocacy Summit
Join us at Persistent Hope: 35 Years of CMEP as we celebrate our 35th birthday and strategize for how to best carry out the work for a just peace in the future! Early bird prices available now!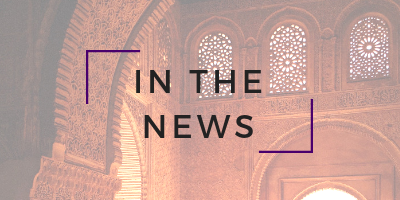 CMEP in the News
Where is CMEP making an impact? See the latest articles authored by CMEP staff or featuring our team.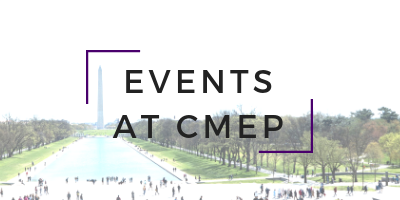 CMEP1835 Advocacy Summit
CMEP is hosting a summit in March for people ages 18-35, called "Reclaiming Our Voices: Reframing the Narrative for Shared Justice in Israel and Palestine." Young people are invited to join CMEP staff in D.C. to recognize the power of their voices in pursuing justice and peace in the Middle East.
Donate
CMEP now accepts stock donations! Contact Alison at alison@cmep.org for details. In the meantime, please give here.
Angela Davis Says She's 'Stunned' After Award Is Revoked Over Her Views on Israel
The New York Times
"In announcing the [revocation], the [Birmingham Civil Rights institute] did not offer an explanation, saying only that '[Angela Davis] unfortunately does not meet all of the criteria on which the award is based.' But Professor Davis said in a statement on Facebook on Monday that she had learned it was because of her "long-term support of justice for Palestine."
Image: Civil rights activist and scholar Angela Davis (Jake May/The Flint Journal via Associated Press).
Former Cabinet Minister Gonen Segev Convicted of Spying for Iran
The Jerusalem Post
"The former energy and infrastructure minister – who also spent time in jail for drug smuggling, forgery and fraud – was extradited from Equatorial Guinea and arrested in May on suspicion of assisting the enemy in a time of war, spying against the State of Israel and providing intelligence to the enemy."
Image: Gonen Segev (Ronen Zvulun/Reuters).
Israeli Teenagers Are Suspected in Deadly Stoning of a Palestinian Woman
The New York Times
"Several Jewish teenagers have been arrested in connection with the fatal stoning of a Palestinian woman in the West Bank, Israel's internal security agency said on Sunday. The agency, the Shin Bet, said in a statement that the suspects, who were not identified because they are minors, were under investigation for 'grave terrorism offenses, including murder.'"
Image: Funeral of Aisha Rabi, the woman killed (Jaafer Ashityeh/Agence France-Presse/Getty Images).
Churches for Middle East Peace (CMEP)
110 Maryland Ave NE, Suite 311 | Washington, District of Columbia 20002
(202) 543-1222 | info@cmep.org