Gantz Said Planning to Okay Almost 5,000 New Settler Homes After 6-month Freeze
A look at a possible return to settlement construction, continuing pandemic responses, and more news in this week's bulletin.

Image: Defense Minister Benny Gantz delivers a statement to the media at the Knesset, on August 24, 2020. (Oren Ben Hakoon/ Flash90)
Gantz said planning to okay almost 5,000 new settler homes after 6-month freeze
Times of Israel
"Defense Minister Benny Gantz is promoting the construction of almost 5,000 new homes in West Bank settlements, a report said Sunday evening (September 7), after more than six months in which such construction has been frozen. The move is seen as a potential maneuver by Gantz to cement ties with settler leaders who are currently fuming at Prime Minister Benjamin Netanyahu, who reneged last month on a longtime promise to annex the settlements and decided instead to normalize ties with the United Arab Emirates. Gantz plans to convene the Civil Administration Planning Committee next week to approve the construction, which will not be limited to the large settlement blocs, Channel 12 reported."
Image: Defense Minister Benny Gantz delivers a statement to the media at the Knesset, on August 24, 2020. (Oren Ben Hakoon/ Flash90)
Israel court slams government for delay in demolishing Palestinian village
Middle East Monitor
"The Israeli government and the country's High Court of Justice are in dispute over the demolition of Khan Al-Ahmar, a Palestinian village near Jerusalem in the occupied West Bank, which is obstructing the expansion of Jewish only illegal settlements. The court has slammed the government's request for another postponement of the demolition of the village as 'embarrassing'. A hearing over the demolition of Khan Al-Ahmar was meant to take place at the end of this month where the state was meant to explain to the court why it had failed to demolish the homes of some 180 members of Al-Jahhalin Bedouins. As a result of the Nakba, which saw Israel lead a campaign of ethnic cleansing against the indigenous Palestinian community, Al-Jahhalin Bedouins have been spread across 26 communities in the area, all facing the threat of demolition. The Israeli government, however, requested a postponement of six months citing the spread of the coronavirus and diplomatic issues. The court ruled that it would delay the hearing by another two months, after which it is expected that Israeli bulldozers will move in to demolish Palestinian homes."
Image: Israeli occupation orders the demolition of a Palestinian house because it was overlooking the illegal Israeli settlement of Pisgat Ze'ev. (Shehab Agency)
'Netanyahu is a rock star:' The evangelicals harvesting land in settlements Israel hopes to annex
Haaretz
"It's harvest time in vineyards atop the hills of Shilo settlement in the West Bank. But it's not Jewish settlers picking the grapes, it's evangelical Christians. They are volunteers for the devout U.S. evangelical group HaYovel which brings Christians to help Jewish farmers in settlements that Israel has built on land that Palestinians seek for a state. Evangelicals have been a core support base for U.S. President Donald Trump since the 2016 election. Many are also staunch supporters of Israel, feeling a religious connection with the Jewish people and the Holy Land. The West Bank holds special importance to evangelicals who see a divine hand in the modern-day return of Jews to a Biblical homeland - and who call the territory by its Hebrew Old Testament name, Judea and Samaria. The founder of HaYovel, Tommy Waller, is fond of quoting a passage from the book of Jeremiah, which reads: 'Again I will build thee, and thou shalt be built, O virgin of Israel...Thou shalt yet plant vines upon the mountains of Samaria.' But that land is also at the heart of the Israeli-Palestinian conflict."
Image: Volunteers from HaYovel harvest grapes at a vineyard on the outskirts of the Har Bracha settlement in the West Bank, August 26, 2019. (Ronen Zvulu/Reuters)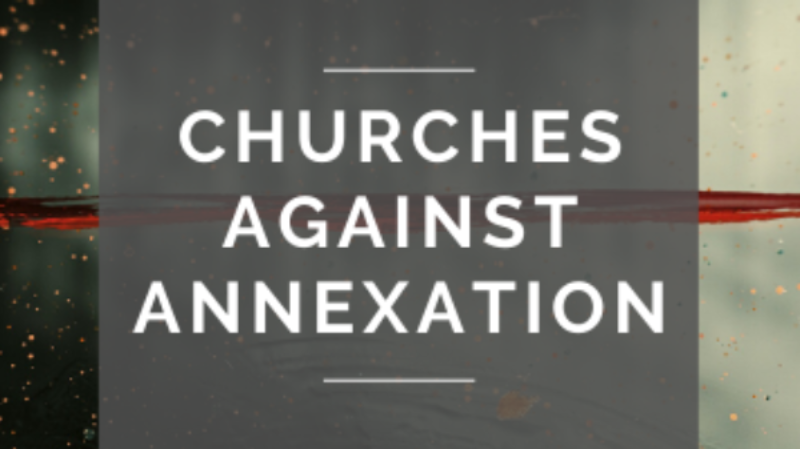 Sign our #ChurchesAgainst Annexation Petition:
CMEP is continuing to push the US government towards justice through our Churches Against Annexation campaign. We invite you to join us in opposing annexation by adding your name to the public statement we are issuing as part of our Churches Against Annexation campaign!
Follow us on social media!
Are you following @ChurchesforMEP on Facebook, Instagram, and Twitter? Our Executive Director has been traveling around the Middle East and sharing her experiences on our social media pages. Follow us today to see how we are encouraging peace and dialogue in the Middle East.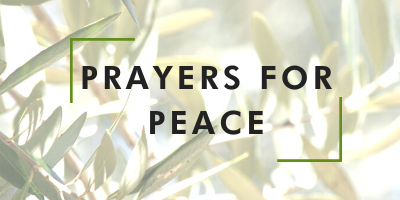 New P4P Blog Post:
Read the latest on our Prayers for Peace (P4P) blog. P4P provides a way for Christians of diverse political and theological backgrounds to stand up for peace and unite in supplication to God with a special focus on prayers for the Holy Land.
Donate
CMEP supporters are key to the essential work we do to advocate for just U.S. policy in the Middle East - make an impact today with a one-time donation!
US's O'Brien: We're committed to 2-state solution; Palestinians need new leaders
Times of Israel
"US National Security Adviser Robert O'Brien said the Trump administration is committed to a two-state solution to the Israeli-Palestinian conflict. 'We want to see the Palestinians in their own state with their own government, hopefully a democratic government, and one that thrives economically alongside Israel,' O'Brien told conservative radio host Hugh Hewitt in an interview broadcast Thursday (September 3). He said the Palestinians had a 'unique opportunity' to reach a peace agreement with Israel under US President Donald Trump and that 'he'd love to get a great deal done' for them. 'And we've got a lot of credibility with the negotiations to work with our Israeli friends to make sure that happens. And so this is an opportunity for the Palestinians to come to the table and get a great deal for themselves,' he said."
Image: US National Security Adviser Robert O'Brien at the Prime Minister's Residence in Jerusalem, on August 30, 2020. (Debbie Hill/Pool/AFP)
Palestinian school year opens amid worsening pandemic in West Bank
Times of Israel
"Palestinian children made their way back to school in the West Bank on Sunday (September 6), even as their teachers' salaries went unpaid and coronavirus infections reached a new high. The Palestinian Authority Education Ministry has promised 'a gradual return' to school to ensure that students are safe. So far, only students from kindergarten through fourth grade are being allowed back, as well as 12th graders. If all goes well, the remaining students will return on September 20, PA Deputy Education Minister Basri Salih said at a press conference on Wednesday afternoon (September 8). According to the government's plan, students will be spaced out in class and compelled to come with masks, while a system of rotating groups of students in and out will prevent crowding."

Image: Palestinian Authority Prime Minister Mohammad Shtayyeh visits an elementary school in Ramallah, on September 6, 2020. (WAFA)
Gov't approves night curfew on 40 red cities amid coronavirus spike
Jerusalem Post
"The country woke up Sunday (September 6) believing that at a minimum, eight to 10 of Israel's 'reddest' cities would be locked down by Monday. But amid extreme pressure by the haredi (ultra-Orthodox) parties, the government approved imposing only 'night curfews' on 40 red cities. The new restrictions, which were voted on by the Ministerial Committee on Declaring Restricted Zones late Sunday, will go into effect on Monday (September 7) at 7 p.m. and will require businesses to shutter by 7 p.m. every day and forbid people from venturing more than 500 meters from their home between 7 p.m. and 5 a.m. The education system would come to a halt, except for preschools and special education. Gatherings will be limited to 10 people in closed spaces, and 20 people in open spaces. Entering and exiting these cities will be unrestricted. 'Citizens of Israel, I would like to update you on the decision made by the ministerial committee tonight,' Prime Minister Benjamin Netanyahu said late Sunday. 'In the last day, another 10 cities have been added to the list of red cities and we have already reached 40 red cities. In light of this, the professionals recommended imposing a uniform nightly curfew on all of these cities, and closing the education system in them, in addition to restrictions on gatherings.'"
Image: Israeli border policewomen chat with local residents at the entrance to Bnei Brak as Israel enforces a lockdown of the ultra-Orthodox Jewish town badly affected by coronavirus disease (COVID-19), Bnei Brak, Israel April 3, 2020. (Ammar Awad/Reuters)
CMEP's Bulletin is a weekly round-up of news from the Middle East and represents an array of perspectives on the issues we cover. CMEP does not necessarily agree with all the views expressed in the articles, and they do not speak on CMEP's behalf.
Churches for Middle East Peace (CMEP)
110 Maryland Ave NE, Suite 311 | Washington, District of Columbia 20002
(202) 543-1222 | info@cmep.org