House Democrats Propose Bill Prohibiting Israel from Using US Funds for Annexation
A look at proposed legislation on US recognition of Israeli sovereignty, international discussions on peace, and more news in this week's bulletin.

Image: McCollum has introduced multiple bills regarding Palestinian rights during her tenure in Congress. (AFP/File photo)
House Democrats propose bill prohibiting Israel from using US funds for annexation
Middle East Eye
"A group of Democratic members of Congress introduced legislation on Friday (August 14) that condemns the Israeli government's proposed annexation of the occupied West Bank and blocks any US aid that would potentially be used to fund it. The legislation, led by Congresswoman Betty McCollum and endorsed by more than 30 progressive organisations, would reject 'any claim by Israel of sovereignty over any part of the occupied West Bank including its airspace'. 'I want Palestinians and Israelis to have their human rights respected, their right to self-determination realised, and a future with peace, security, equality, and justice,' McCollum said in a statement. 'Annexation is antithetical to these goals and will fuel instability, injustice, and an abhorrent system of apartheid. I reject Israeli annexation. I condemn annexation. And I will work to ensure the US does not support, defend, or legitimise any plan to illegally annex Palestinian lands.'"
Image: McCollum has introduced multiple bills regarding Palestinian rights during her tenure in Congress. (AFP/File photo)
Middle East peace talks remain priority, Macron says after call with Abbas
Arab News
"French President Emmanuel Macron urged fresh Middle East peace talks after Israel and the UAE agreed to normalise ties in a move praised by many Western governments, including Paris, but unanimously denounced by the Palestinians. Taking to Twitter after a phone conversation with Mahmoud Abbas, Macron said he told the Palestinian leader he was determined 'to work for peace in the Middle East'. He added: 'The resumption of talks to reach a fair solution that respects international law remains a priority.' The French leader had hailed the agreement announced by US President Donald Trump on Thursday as a ;courageous decision' by the UAE, saying it showed Dubai's 'desire to contribute to the establishment of a just and lasting peace between Israel and the Palestinians'."
Image: Macron told Abbas he was determined to work on the peace process. (AFP/File)
Egypt mediators to visit West Bank, Gaza Strip next week
Middle East Monitor
"An Egyptian security delegation which mediates talks between the Palestinian resistance and Israel is expected to visit the West Bank and the Gaza Strip next week, Pal Sawa news website reported on Saturday (August 15). Citing informed sources, Pal Sawa reported that the Egyptian security delegation is expected to meet with Palestinian officials in Ramallah and Gaza. This comes following the Israeli decision to tighten its siege imposed on Gaza after it stopped the entry of construction materials and industrial staff, in addition to restricting fishing zones off the Gaza coast. The Israeli occupation announced these measures alongside the daily airstrikes in Gaza, which started a week ago following incendiary balloons fired from Gaza into Israeli settlements. Palestinians stated that they fired the balloons in response to Israel's retreat from the understandings reached with the Palestinian resistance last year, which included permission for the entry of monthly Qatari cash aid and easing the 14-year-long siege imposed on Gaza."
Image: Guards seen at the Gaza-Egypt border's Rafah crossing, in Rafah, Gaza on August 11, 2020. (Mustafa Hassona / Anadolu Agency)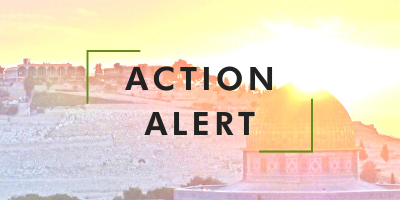 Action Alert: HR 8050: Israeli Annexation Non-Recognition Act:
On Friday, August 14, Rep. Betty McCollum (MN) introduced HR 8050, the Israeli Annexation Non-Recognition Act to prohibit the US's recognition of Israel's claim of sovereignty over the occupied West Bank. Show your support! Contact your representative today!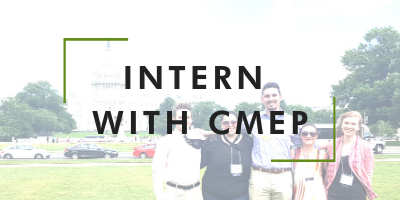 Intern with CMEP:
We invite college students of all ages to apply to our internship program. CMEP's interns are able to work with multiple staff members and gain exposure to working in a non-profit in Washington, D.C.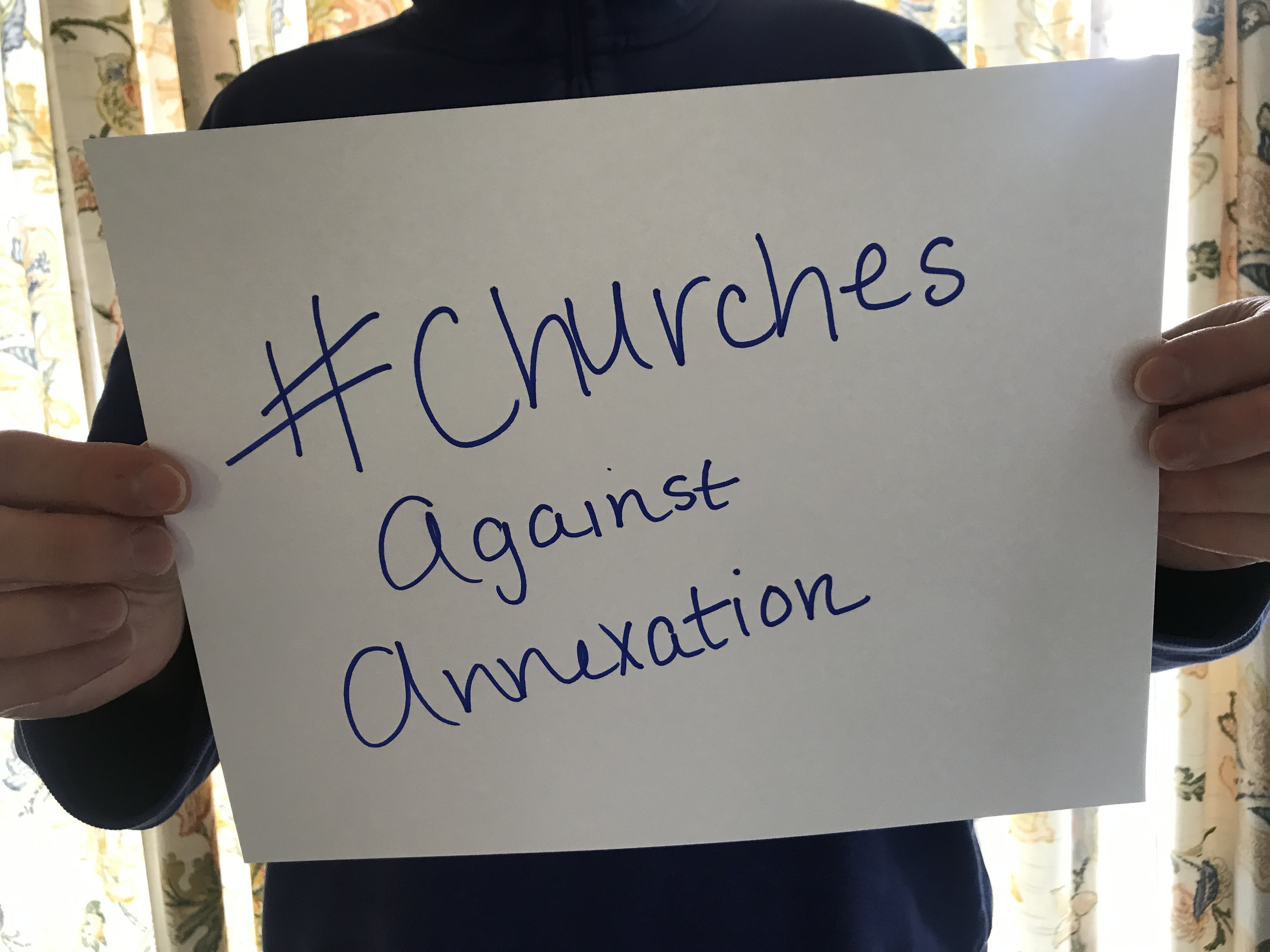 Join #ChurchesAgainst
Annexation:
CMEP is continuing to push the US government towards justice through our Churches Against Annexation campaign. With all signs pointing towards formal annexation of Area C in the West Bank beginning this month, speak out against injustice today!
Donate
Make supporting peace a regular routine part of your month by joining CMEP's Sustainer Circle today!

Thanks for your support! Churches for Middle East Peace is following guidelines related to the Covid19 Pandemic to allow our employees to work from home and to observe social distancing measures. As a result, we are temporarily updating our mailing address to receive donations. We appreciate your ongoing support. If you are planning to donate to CMEP via check, we encourage you to take advantage of online credit-card or E-check options at www.cmep.org since our staff will be working from home for the foreseeable future, making it hard to process checks.
Please write your checks out to Churches for Middle East Peace and mail your checks to:
Churches for Middle East Peace
PO Box 328
Cedarville, AR 72932
Qatar Ambassador in Gaza leading 'intensive talks' to prevent escalation with Israel
Haaretz
"Qatar is making great efforts to prevent a military escalation between Israel and Hamas, said the Qatari envoy to the Gaza Strip, Mohammed al-Emadi, on Wednesday (August 19). Qatar is 'conducting intensive talks on the highest level with the goal of preventing an escalation and to protect the residents of Gaza from more crises and blows,' he said. On Tuesday (August 18), the IDF Spokesman's Office said that the Air Force had attacked Hamas targets in the Gaza Strip in response to the firing of a rocket at Israel and other hostile activities. The IDF has been attacking Hamas targets in Gaza every night in recent days because of the resumption of incendiary balloons launches into Israel."
Image: Fires near the Gaza border sparked by incendiary balloons, August 14, 2020. (Ohad Zwigenberg)
Trump says he moved US embassy to Jerusalem 'for the evangelicals'
Times of Israel
"US President Donald Trump said Monday (August 17) that his 2017 decision to move the US embassy to Jerusalem and recognize the city as the capital of Israel was done for evangelical Christians. 'And we moved the capital of Israel to Jerusalem,' Trump said at a rally held at an airport in Oshkosh, Wisconsin, apparently referring to his decision to move the embassy from Tel Aviv. 'That's for the evangelicals.' Jerusalem has been Israel's capital since its founding in 1948, although much of the international community does not recognize it as under the initial UN Partition Plan, Jerusalem was to be an international city. 'You know, it's amazing with that — the evangelicals are more excited by that than Jewish people,' he said to cheers from the crowd. 'That's right, it's incredible.'"

Image: US President Donald Trump arrives to speak at a campaign rally at Wittman Airport, Monday, Aug. 17, 2020, in Oshkosh, Wisconsin. (AP Photo/Evan Vucci)
Edelstein: I won't let us create a Palestinian state on our territory
J-Post
"Health Minister Yuli Edelstein [Likud] personally pledged to work against any initiatives to create a Palestinian state in Area C of the West Bank during a visit the Barkan Industrial Park in Samaria. Such a thing 'will not be and will never happen,' he said. 'A Palestinian state will not be created on our territory in Judea and Samaria. Neighborly relations, 'yes.' Co-existence, 'yes.' Working side-by-side, 'yes.' To create a terror state from which attacks will be launched against Israel is an absurd situation. As an elected official, as a government minister, I won't let us get to that situation,' Edelstein said. He spoke less than a week after Israel agreed to suspend its planed annexation of West Bank settlements in exchange for a peace deal with the United Arab Emirates. Prime Minister Benjamin Netanyahu has promised that sovereignty will still be applied, just at a later date."
Image: Health Minister Yuli Edelstein (L) alongside Samaria Regional Council head Yossi Dagan, August 18, 2020. (Samaria Regional Council)
CMEP's Bulletin is a weekly round-up of news from the Middle East and represents an array of perspectives on the issues we cover. CMEP does not necessarily agree with all the views expressed in the articles, and they do not speak on CMEP's behalf.
Churches for Middle East Peace (CMEP)
110 Maryland Ave NE, Suite 311 | Washington, District of Columbia 20002
(202) 543-1222 | info@cmep.org