Israel, UAE Reach Historic Peace Deal: 'We Can Make a Wonderful Future'

A look at discussions of US aid and annexation, possible repeat elections in Israel, and more news in this week's bulletin.

Image: L-R: Crown Prince of Abu Dhabi Sheikh Mohammed Bin Zayed, US President Donald Trump, Israeli Prime Minister Benjamin Netanyahu. (Reuters)
Israel, UAE reach historic peace deal: 'We can make a wonderful future'
J-Post
CMEP will be issuing a statement in response to this peace deal. You may find the full text of that on our website.
"Israel and the UAE agreed to full normalization of relations in a phone call with US President Donald Trump on Thursday (August 13), marking the first peace treaty between Israel and an Arab country in 25 years. Israel agreed to suspend its planned extension of sovereignty over parts of Judea and Samaria to facilitate relations with the UAE and potentially other Arab and Muslim countries. The agreement will include establishing embassies and exchanging ambassadors, investments into the Israeli economy, trade, direct flights between Tel Aviv and Abu Dhabi, an investment in Israeli efforts to develop a coronavirus vaccine – as first reported in The Jerusalem Post last month – and cooperation in matters of energy and water. An important element of the deal for the UAE is the expectation that its citizens would be able to visit the Al-Aksa mosque in Jerusalem."
Image: L-R: Crown Prince of Abu Dhabi Sheikh Mohammed Bin Zayed, US President Donald Trump, Israeli Prime Minister Benjamin Netanyahu. (Reuters)
Bipartisan US bill aims to advance normalized ties between Israel, Arab states
Times of Israel
"Two US senators introduced bipartisan legislation last week aimed at promoting normalized relations between Israel and Arab countries. New Jersey Senator Cory Booker, a Democrat, and Ohio Senator Rob Portman, a Republican, unveiled a bill Thursday (August 6) that would require the State Department to publish an annual report on the mistreatment of Arab citizens who violate their county's anti-normalization laws regarding Israel. The measure — called the Strengthening Reporting of Actions Taken Against the Normalization of Relations with Israel Act of 2020 — follows a set of recommendations from the Arab Council for Regional Integration. The pan-Arab body, established in 2019, opposes Arab boycotts against Israel, arguing that such tactics hurt, rather than help, Arab interests."
Image: In this April 16, 2018, photo, Sen. Rob Portman, R-Ohio, speaks during a news conference in Cincinnati. (AP Photo/John Minchillo)
Will Netanyahu fold? Is Israel headed for fourth election? All the scenarios
Haaretz
"After a day of mutual accusations and verbal clashes between legislators from Likud and Kahol Lavan, and with two weeks to go before the current deadline to pass the 2020 state budget, Prime Minister Benjamin Netanyahu appears determined to move forward toward elections. Over the weekend, Likud planned to attribute the cancellation of the weekly cabinet meeting to 'a dispute with Kahol Lavan,' in an effort to paint Benny Gantz's party as the one that is not addressing the coronavirus crisis properly. It's too early to say whether Sunday's announcement that Likud will support a bill extending the deadline to pass the 2020 budget will stabilize the situation."
Image: Deja vu? An election campaign banner, showing Benny Gantz and Benjamin Netanyahu, being erected in Ramat Gan in February. (Jack Guez/ AFP)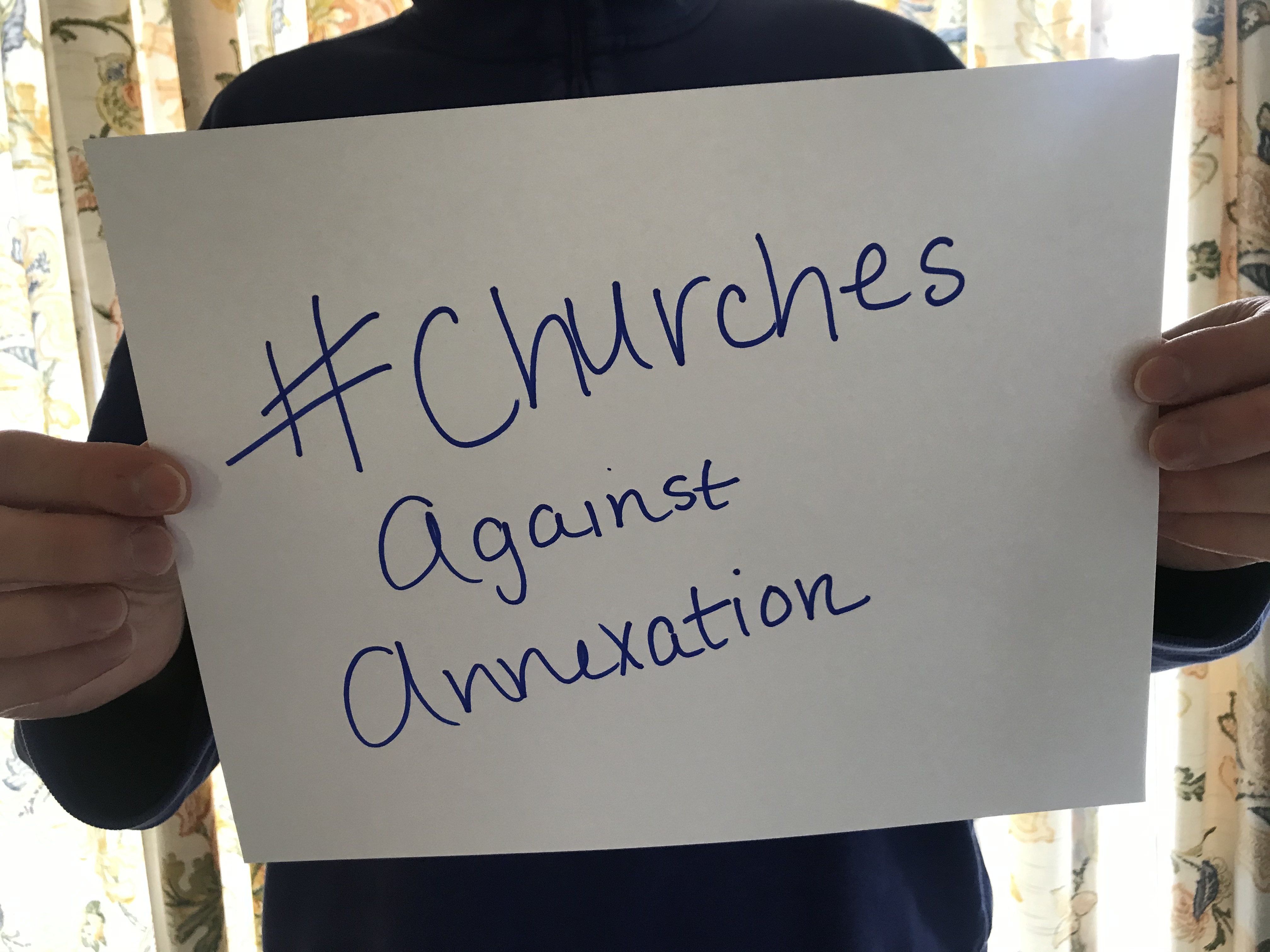 Join #Churches
AgainstAnnexation
CMEP is continuing to push the US government towards justice through our Churches Against Annexation campaign. With all signs pointing towards formal annexation of Area C in the West Bank beginning this month, speak out against injustice today!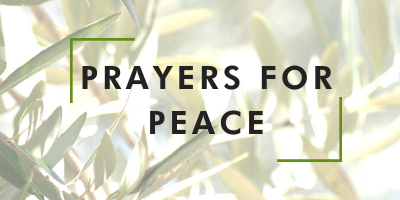 New P4P Blog Post:
Read the latest on our Prayers for Peace (P4P) blog. P4P provides a way for Christians of diverse political and theological backgrounds to stand up for peace and unite in supplication to God with a special focus on prayers for the Holy Land.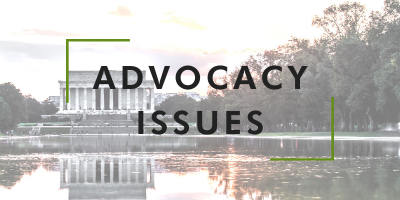 Take Action: Grassroots Activism Guide:
Are you following @ChurchesforMEP on Facebook, Instagram, and Twitter? Our Executive Director has been traveling around the Middle East and sharing her experiences on our social media pages. Follow us today to see how we are encouraging peace and dialogue in the Middle East.
Donate
Consider making a gift in honor of CMEPs former Executive Director Warren Clark through your support of the Ambassador Warren Clark Fellowship (AWCF). This Fellowship supports young scholars work and research towards a more peaceful future.

Thanks for your support! Churches for Middle East Peace is following guidelines related to the Covid19 Pandemic to allow our employees to work from home and to observe social distancing measures. As a result, we are temporarily updating our mailing address to receive donations. We appreciate your ongoing support. If you are planning to donate to CMEP via check, we encourage you to take advantage of online credit-card or E-check options at www.cmep.org since our staff will be working from home for the foreseeable future, making it hard to process checks.
Please write your checks out to Churches for Middle East Peace and mail your checks to:
Churches for Middle East Peace
PO Box 328
Cedarville, AR 72932
With PA coordination halted, sick Gazans still have no mechanism to enter Israel
Times of Israel
"Two and a half months after the Palestinian Authority stopped coordinating the exit of residents of the Gaza Strip to Israel or the West Bank on humanitarian grounds, there is still no functioning alternative mechanism to quickly facilitate treatment for urgent medical cases, a report said Thursday (August 6). The United Nations Office for Coordination of Humanitarian Affairs (OCHA) announced two weeks ago that it would streamline the process, but has yet to do so. Meanwhile, only half of the urgent cases referred directly to Israeli authorities are approved, the Haaretz daily reported. The PA stopped the coordination in late May, cutting all ties with Israel in protest of its as-yet unfulfilled intention to annex parts of the West Bank. In late May, Palestinian Authority President Mahmoud Abbas announced the PA was 'absolved' of all of agreements and understandings with Israel, as part of the Palestinians' response to the planned annexation, which hasn't gone ahead despite vows by Prime Minister Benjamin Netanyahu amid objections voiced by members of US President Donald Trump's administration."
Image: Palestinians are seen crossing at the Erez crossing with Israel near Beit Hanoun in the northern Gaza Strip on August 27, 2018. (AFP/Mahmud Hams)
All Dems after Foreign Affairs panel chair against US aid for annexation
J-Post
"All three of the Democrats seeking to become the next head of the House of Representatives' Foreign Affairs Committee have said they do not want US money to aid Israel's potential annexation of parts of the West Bank. Reps. Brad Sherman of California, Joaquin Castro of Texas and Gregory Meeks of New York are vying for the role with the defeat of the current head, longtime pro-Israel voice Eliot Engel, in his New York primary in June. 'I oppose any use of American taxpayer dollars to implement the Annexation Plan or to build any permanent Israeli installation in the West Bank or Gaza,' Sherman said in a statement. Sherman and Meeks are longtime allies of the American Israel Public Affairs Committee, or AIPAC, the country's largest pro-Israel lobby. 'Not a penny of US taxpayer money should subsidize or enable any unilateral annexation of parts of the West Bank,' Castro said. 'Under a two-state approach, America has a responsibility to be an arbiter of peace, which means we need trust and credibility with both Israelis and Palestinians.'"

Image: Capitol Hill. (Architect of the Capitol)
16 Beirut ministries respond to Lebanon explosion
Christianity Today
"One hour later at work, and Sarah Chetti might have been one of thousands in a Beirut hospital. Director of the INSAAF migrant worker ministry in Lebanon, Chetti's colleagues described shards of broken glass flying through the air, and the metal frames of doors ripped from their hinges. It was a similar experience for the one staff member inside the Youth for Christ youth center not far from the blast. To avoid the 'colossal damage,' he ducked to the floor. Re-welding was necessary just to lock up the next day. Peter Ford was fortunate. Working quietly in his faculty office at the Near East School of Theology near downtown Beirut, the first small reverberations stirred his curiosity to investigate the problem. Moments later, the huge blast blew in his window and spewed the glass across his desk. Miraculously, the dozen evangelical churches and ministries in Lebanon contacted by CT reported no deaths and few serious injuries caused by the massive explosion. The official national tally is now over 100 dead, with over 5,000 injured."
Image: Smoke rises above wrecked buildings at Beirut's port, devastated by an explosion a day earlier, on August 5 in Lebanon's capital. (Marwan Tahtah / Getty Images)
CMEP's Bulletin is a weekly round-up of news from the Middle East and represents an array of perspectives on the issues we cover. CMEP does not necessarily agree with all the views expressed in the articles, and they do not speak on CMEP's behalf.
Churches for Middle East Peace (CMEP)
110 Maryland Ave NE, Suite 311 | Washington, District of Columbia 20002
(202) 543-1222 | info@cmep.org