13 Senate Democrats: US Assistance Shouldn't Be Used for Annexation
A look at continuing responses from around the world to possible annexation and more news in this week's bulletin.

Image: A member of the audience looks on wearing a United States-Israel themed custom suit during the AIPAC convention at the Washington Convention Center in Washington, U.S., March 2, 2020. (Reuters/Tom Brenner)
13 Senate Democrats: US assistance shouldn't be used for annexation
J-Post
"A group of 13 Senate Democrats has filed an amendment to the Fiscal Year 2021 National Defense Authorization Act (NDAA) to prohibit Israel from using US security assistance funds for the annexation of parts of the West Bank. Senator Chris Van Hollen (D-MD) spearheaded the amendment. He was joined by Senators Elizabeth Warren (D-MA), Bernie Sanders (I-VT) and Chris Murphy (D-CT), among others. 'I am a strong supporter of robust security assistance to our friend and ally Israel, including the Memorandum of Understanding forged by president Obama, providing $3.8 billion in annual Foreign Military Financing and missile defense support,' Van Hollen said in a statement. 'However, I oppose the use of any of these funds to support the unilateral annexation of Palestinian territories by Israel,' Van Hollen said that neither the US government nor American taxpayers should finance or facilitate the move."

Image: A member of the audience looks on wearing a United States-Israel themed custom suit during the AIPAC convention at the Washington Convention Center in Washington, U.S., March 2, 2020. (Reuters/Tom Brenner)
AOC annexation letter: 13 US legislators pledge to condition aid to Israel
Middle East Eye
"More than a dozen US legislators have released a letter pledging to 'pursue legislation that conditions' Washington's military aid to Israel to ensure that Americans 'are not supporting annexation in any way'. The letter, spearheaded by prominent progressive Congresswoman Alexandria Ocasio-Cortez (AOC), warned Israel of potential consequences if it proceeds with its stated plans of annexing parts of the occupied West Bank. The statement, addressed to Secretary of State Mike Pompeo and released on Tuesday, urges the US chief diplomat to make it clear to the Israeli government that annexation would be 'unacceptable'. It was signed by Senator Bernie Sanders and House members Rashida Tlaib; Ilhan Omar; Pramila Jayapal; Andre Carson; Betty McCollum; Chuy Garcia; Danny Davis; Ayanna Pressley; Raul Grijalva; Bobby Rush; and Nydia Velazquez."
Image: Rep. Alexandria Ocasio-Cortez, D-N.Y.; AIPAC was quick to denounce the letter even before it was officially released. (AFP/File photo)
Israel's possible annexation of West Bank areas: frequently asked questions
Congressional Research Service
"Israeli Prime Minister Binyamin Netanyahu has stated his intent for Israel to annex parts of the West Bank in 2020. Annexation could raise issues for Congress, and varying congressional views on the subject have contributed to debate about implications for U.S.-Israel relations. Congress may conduct additional oversight of Trump Administration actions and could modify or place conditions on U.S. funding for Israel, the Palestinians, and various international organizations.... Some answers to frequently asked questions in this report address key points of historical context and U.S. policy, how annexation might affect existing realities, and various factors that could influence Israeli decisions on annexation. Considerable debate within Israel focuses on whether the risks of annexation are justified by benefits beyond those that Israel already has from its de facto control over the West Bank areas in question."
Image: Congressional Research Service Logo)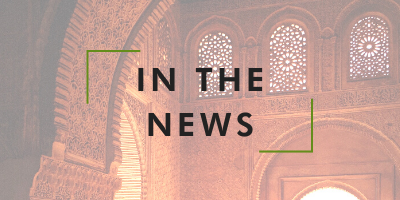 CMEP in the News:
Where is CMEP making an impact? See the latest articles authored by CMEP staff or featuring our team.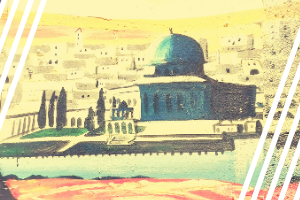 Missed Our Annual Advocacy Summit? Watch Online!
One benefit to this year's digital advocacy summit is that we can offer you recordings of the incredible speakers that joined us on June 22. Interested in catching up on what was discussed? Donate today and receive access to the videos.
Join #ChurchesAgainst
Annexation:
CMEP is continuing to push the US government towards justice through our Churches Against Annexation campaign. With all signs pointing towards formal annexation of Area C in the West Bank beginning this month, speak out against injustice today!
Donate
Please support CMEP's work for equal rights for all in Israel/Palestine.

Thanks for your support! Churches for Middle East Peace is following guidelines related to the Covid19 Pandemic to allow our employees to work from home and to observe social distancing measures. As a result, we are temporarily updating our mailing address to receive donations. We appreciate your ongoing support. If you are planning to donate to CMEP via check, we encourage you to take advantage of online credit-card or E-check options at www.cmep.org since our staff will be working from home for the foreseeable future, making it hard to process checks.
Please write your checks out to Churches for Middle East Peace and mail your checks to:
Churches for Middle East Peace
PO Box 328
Cedarville, AR 72932
House Appropriations Subcommittee approves $3.3 billion to Israel security
J-Post
"The House Appropriations Subcommittee on State, Foreign Operations, and Related Programs approved by voice vote its fiscal year 2021 bill on Monday (July 6) that will provide funds to Israel security in addition to giving aid to the Palestinians. The bill next heads to the full committee for markup. It will provide the funds according to the Memorandum of Understanding (MoU) on military aid between the US and Israel. 'It keeps the commitments of the United States at Camp David in 1979 to promote peace in the Middle East by providing $3.3 billion in aid for Israel security, as well as assistance for Egypt,' said House Appropriations Subcommittee chairwoman Nita Lowey."
Image: US soldiers stand in the background next to Israeli and American flags during an exercise in Israel. (Reuters)
4 countries warn Israel against annexing Palestinian territories
Politico
"Germany, France, Egypt and Jordan on Tuesday (July 7) said Israel should refrain from annexing parts of the Palestinian territories, warning that doing so could harm bilateral relations. 'We are unanimous in our view that any annexation of the Palestinian territories occupied in 1967 would be contrary to international law and would jeopardize the foundations of the peace process,' the four countries' foreign ministers said in a statement issued by the German foreign ministry after a videoconference. 'We also agree that such a move would have serious consequences for the security and stability of the region and would constitute a major obstacle to efforts to achieve a comprehensive and just peace,' the ministers continued, warning that it could potentially 'have consequences for relations with Israel.'"

Image: Israeli Prime Minister Benjamin Netanyahu. (AP)
Court rejects appeal against construction on Jaffa Muslim cemetery
Times of Israel
"The Tel Aviv District Court on Tuesday (July 7) rejected a petition by the Jaffa Islamic Council against the construction of a shelter for homeless people on a plot that was found to be an old Muslim cemetery. The construction atop the cemetery sparked days of demonstrations in Jaffa, a predominantly Arab city that is part of the Tel Aviv municipality. Judge Limor Bibi canceled a previous injunction against work at the site, which will continue immediately. She also ruled that the Islamic Council must pay the Tel Aviv-Jaffa municipality and the Tel Aviv Foundation NIS 7,500 each for legal costs."
Image: Police arrest demonstrators who threw rocks, burned trash cans in protest of decision to demolish cemetery in Jaffa on June 10, 2020 (Israel Police)
CMEP's Bulletin is a weekly round-up of news from the Middle East and represents an array of perspectives on the issues we cover. CMEP does not necessarily agree with all the views expressed in the articles, and they do not speak on CMEP's behalf.
Churches for Middle East Peace (CMEP)
110 Maryland Ave NE, Suite 311 | Washington, District of Columbia 20002
(202) 543-1222 | info@cmep.org