Arab Envoy Warns Israelis That Annexation Threatens Warming Ties
A look at ongoing discussions of annexation, the evangelical response, and more news in this week's bulletin.

Image: The West Bank settlement of Ma'ale Efraim on the slopes of the Jordan Valley in February. (Ariel Schalit/Associated Press)
Arab envoy warns Israelis that annexation threatens warming ties
New York Times
"In a watershed article in a leading Israeli newspaper, a top diplomat from the United Arab Emirates warned the Israeli public on Friday (June 12) that unilateral annexation of West Bank territory would endanger Israel's warming ties with Arab countries. Writing in Friday's Yediot Ahronot, Yousef al-Otaiba, the Emirates' ambassador to the United States, appealed directly to Israelis in Hebrew to deter Prime Minister Benjamin Netanyahu from following through on his promise to annex occupied territory as early as next month."

Image: The West Bank settlement of Ma'ale Efraim on the slopes of the Jordan Valley in February. (Ariel Schalit/Associated Press)
Questioning the Covenant
Jewish Currents
"In 2009, Reverend Mae Elise Cannon, on her first trip to the Holy Land, stood on the Allenby Bridge waiting to cross into Jericho from Jordan, where she and her church group had just explored Petra. The evangelical pastor approached the Israeli border patrol agent, who asked if she intended to travel into the West Bank. Cannon was flummoxed. She knew she was headed to Bethlehem, where Jesus lived and ministered. But the West Bank? 'I said 'no,' because I didn't even know what it was,' Cannon recalled. Cannon was raised in a politically conservative Christian home, where she was taught to love Israel and the Jewish people."
Image: The steeple of a Franciscan convent in the Aida refugee camp, near the Israeli separation wall in the West Bank. (Ryan Rodrick Beiler)
Biden adviser says Israeli annexation would be a 'huge mistake'
Haaretz
"A foreign policy adviser for Joe Biden has warned that Israeli annexation of West Bank lands would be 'a huge mistake.' Nicholas Burns told The Arena, the online magazine of the Abba Eban Institute for International Diplomacy, that annexation 'is the one issue which could most harm the U.S.-Israel relationship.' As well as serving as a foreign policy adviser to Biden, the Democratic Party's presumptive nominee in the November election, Burns is a Harvard professor, and served as secretary of state for political affairs under President George W. Bush after serving as U.S. ambassador to NATO."
Image: Joe Biden speaks during a round table on economic reopening with community members in Philadelphia, June 11, 2020. (AP Photo/Matt Slocum)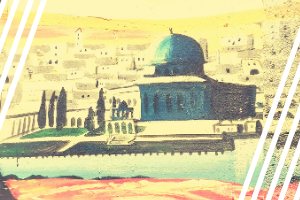 Our Digital Summit is Monday!
Join us this Monday, June 22nd, for an online summit discussing Equal in God's Eyes. We are excited to have incredible speakers joining us and hope you will, too!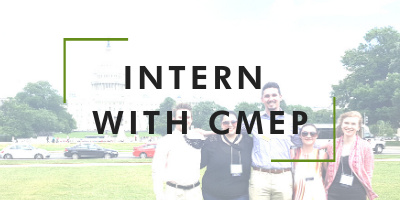 Intern with CMEP:
We invite college students of all ages to apply to our internship program for Fall 2020. CMEP accepts both remote and in-person interns. Work with multiple staff members and gain exposure to working in a non-profit in Washington, D.C.
12 Days to Stop Injustice: Join #ChurchesAgainst
Annexation:
CMEP is excited to announce the launch of our Churches Against Annexation campaign. With all signs pointing towards formal annexation of Area C in the West Bank beginning July 1, speak out against this injustice! We will offer webinars, action alerts, and other ways for you to engage.
Donate
Next week is our online summit Equal in God's Eyes. Please help us work for justice & equality by donating to our $20k match campaign!

Thanks for your support! Churches for Middle East Peace is following guidelines related to the Covid19 Pandemic to allow our employees to work from home and to observe social distancing measures. As a result, we are temporarily updating our mailing address to receive donations. We appreciate your ongoing support. If you are planning to donate to CMEP via check, we encourage you to take advantage of online credit-card or E-check options at www.cmep.org since our staff will be working from home for the foreseeable future, making it hard to process checks.
Please write your checks out to Churches for Middle East Peace and mail your checks to:
Churches for Middle East Peace
PO Box 328
Cedarville, AR 72932
House Democrats push new letter aimed at unifying the party behind an anti-West Bank annexation message to Israel
JTA
"House Democrats have put together a letter that they hope will unite their entire caucus in warning Israel against annexation of part of the West Bank. The letter, now circulating among the party's House caucus and obtained exclusively by the Jewish Telegraphic Agency, warns Israel about the dangers annexation would pose to Israelis and to the region. But it does not hint at any danger to the U.S.-Israel relationship and restates the signers' commitment to the relationship."
Image: Representative Ted Deutch, D-Fla., speaks in Washington, D.C., Jan. 28, 2020. He is one of four authors of the letter. (Samuel Corum/Getty Images)
Israel builds road to link settlements as West Bank annexation nears
Y-Net News
"Construction is under way on a major new ring road for Jerusalem that Israeli officials say will benefit all of its residents, but critics of the project say is another obstacle to Palestinian hopes to make East Jerusalem the capital of a future state. The bypass, called The American Road, will connect Jewish settlements in the West Bank that are north and south of Jerusalem. The central and southern sections of the road are already being built, and tenders for the northernmost stretch 'at a projected cost of $187 million' will be issued toward the end of the year, a Jerusalem municipality official said on condition of anonymity."

Image: An aerial view shows a section of The American Road, an Israeli ring road being built near the Palestinian neighbourhood of Umm Tuba in East Jerusalem. (Reuters)
Israel OKs plan for new Golan settlement named after Trump
AP News
"An Israeli cabinet minister on Sunday (June 14) said the government approved plans to build a new settlement in the Israeli-occupied Golan Heights named after President Donald Trump. Settlements Minister Tzipi Hotovely wrote on Facebook that her ministry will start preparations for Ramat Trump — Hebrew for 'Trump Heights' — to house 300 families. Israel captured the Golan Heights from Syria in the 1967 Mideast war and annexed it in 1981. Most of the international community considers the move, and Israeli settlements in the territory, illegal under international law."
Image: June 16, 2019, file photo, Israeli Prime Minister Benjamin Netanyahu, right, his wife Sara, United States Ambassador to Israel David Friedman, left, and his wife Tammy pose. (AP Photo/Ariel Schalit, File)
CMEP's Bulletin is a weekly round-up of news from the Middle East and represents an array of perspectives on the issues we cover. CMEP does not necessarily agree with all the views expressed in the articles, and they do not speak on CMEP's behalf.
Churches for Middle East Peace (CMEP)
110 Maryland Ave NE, Suite 311 | Washington, District of Columbia 20002
(202) 543-1222 | info@cmep.org